Moses Drury Hoge was the minister of Second Presbyterian Church, Richmond, Virginia, for two months shy of fifty-four years. To continue as a minister in the same church for over half a century is a length of service that very few pastors of any denomination have experienced. He was born near
Hampden-Sydney College in Virginia, September 17, 1818. He was named "Moses" for his paternal grandfather, Rev. Dr. Moses Hoge; "Drury" for his maternal grandfather, Rev. Drury Lacy. The family called him "Drury," possibly to avoid confusion with his cousin, Moses A. Hoge, who was about the same age. Young Moses' father, Samuel Davies Hoge, was one of three brothers that entered the ministry and a fourth brother that became a physician.
As a boy, Moses was moved with the family to Athens, Ohio, because his father accepted a teaching position in the University of Ohio. It was hoped that the change in work would lighten Samuel's load sufficiently to rejuvenate his weakening constitution. However, his father died at Christmas time in 1826 leaving the family without a provider. The family continued to live in Athens where Mrs. Hoge provided for her children by operating a boarding house. Moses was known in the Athens community as a voracious reader with a seemingly limitless memory. At one point, many students left the university because of a controversy and Mrs. Hoge lost so many paying roomers that she had to leave Athens. She moved the family to Columbus where she hoped there would be better opportunities. Moses, however, was sent to live with an uncle in Newbern, North Carolina, who tutored him in preparation for entering Hampden-Sydney College.
After graduating college, he taught in a private school for a year and then began his divinity studies in Union Seminary in the fall of 1840 while working as a tutor at Hampden-Sydney for a wage of 400.00 per year. At the time, the seminary and college were on the same campus. West Hanover Presbytery licensed Moses Hoge, October 6, 1843, in the church in which his father had been licensed in Lexington. He served his licensure under the oversight of William Swan Plumer in First Presbyterian Church, Richmond. He was to assist Dr. Plumer with preaching, pastoral duties, and with the special responsibility of supplying and cultivating a mission chapel in Richmond. He married Miss Susan Morton Wood of Prince Edward on March 20, 1844. His work in the mission was blessed with a sufficient congregation for organization as the Second Presbyterian Church on February 27, 1845. He was ordained and installed as the pastor that same day.
When Dr. Plumer left First Church for a new call in Baltimore the Old School General Assembly for 1847 had already been scheduled to meet in First Church. Rev. Hoge was the only Old School minister in Richmond at the time and much of the planning for the meetings fell upon his shoulders. The retiring moderator in 1847 was Charles Hodge whose sermon used the biblical text 1 Corinthians 9:14, "Even so the Lord ordained, that they which preach the gospel should live of the gospel." Dr. Hodge passed the gavel to the newly elected moderator and his sometimes-polemic adversary, James H. Thornwell. Even though the meetings ended heatedly with a protest regarding the divisive case of Archibald McQueen's marriage to his deceased wife's sister, the commissioners were able to thank the citizens of Richmond and the session of First Church for their hospitality and generosity. Rev. Hoge must have been greatly relieved when the General Assembly was dissolved on May 31 and his workload was lightened.
During the academic year of 1850-1851 at the University of Virginia the Presbyterian chaplain, William H. Rufner, held a series of lectures on the evidences of Christianity. The speakers selected included Presbyterians such as William S. Plumer, Alexander T. McGill, J. W. Alexander, Robert J. Breckinridge, Stuart Robinson, N. L. Rice, M. D. Hoge, and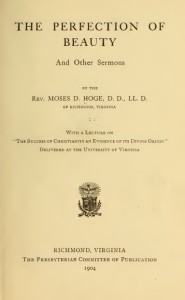 several others. Rev. Hoge's subject, "The Success of Christianity an Evidence of its Divine Origin," was delivered in two parts but published as a single text in his posthumously published book, The Perfection of Beauty, 1904. Hoge traced the growth of the church from the arrest of Christ and the scattering of his disciples, through the early and rapid growth of the church despite Roman opposition, then to the effects of Christianity in the world, and he concluded with a glance to the future. Rev. Hoge looked down the road from his antebellum perspective and predicted that the Gospel "can never be supplanted by a sullen, cheerless infidelity, which submits, because it must, to inexorable fate—which has no prospects, but a cold, bleak world, and a rayless eternity beyond—whose best discovery is, a grave without a resurrection, and a world without a God" (334-35, italics original).
During the years of the Civil War, Richmond's population swelled due to its importance as the location of the Confederate government, a hub for railroad and freight logistics, hospitals housing both Union and Confederate troops, and the prisons holding captured Union soldiers. During this time, Dr. Hoge ministered both as a chaplain to the troops and to the Confederate government in addition to his pastoral work at Second Church. When the war ended it was Dr. Hoge who delivered an oration at the dedication of the Gen. Thomas J. "Stonewall" Jackson memorial statue in Richmond on Oct. 26, 1875.
Dr. Hoge's lengthy ministry provided the opportunity for many honors. He was elected by his fellow Virginians to moderate the synod meeting in the fall of 1852 in Winchester. His alma mater, Hampden-Sydney, made use of his gifts as a trustee from 1852 until his death and honored him with the Doctor of Divinity. His fellow churchmen elected him the moderator of the General Assembly of the P.C.U.S. when it met in St. Louis in 1875 and he received the gavel from retiring Moderator J. L. Girardeau. Internationally, he served in 1877 as a delegate to the Pan-Presbyterian Council that met in Edinburgh, and then in 1884 he attended the Alliance of the Reformed Churches of the World that
met in Copenhagen. Washington and Lee College in Lexington granted him the LL.D. in 1884. Princeton University honored him with the Doctor of Divinity in 1896. His church remembered his many years of ministry with services commemorating his forty-fifth and fiftieth anniversaries as its pastor. Dr. Hoge's reputation led to several invitations from churches and educational institutions for his service including Hampden-Sydney and pastoral services in Lexington, Virginia, St. Louis, Brooklyn, New York, Nashville, Philadelphia, New Orleans, and Charleston, but he continued in his first and only call.
On Friday, November 4, 1898, Moses Drury Hoge was heading home after consoling a bereaved family when he suddenly heard the clanging bell of a trolley as it rammed into his buggy. He was thrown into the air and landed on his right side on the stone pavement and was severely injured. Dr. Hoge suffered with his injuries until he died on January 6, 1899. He was buried in Hollywood Cemetery next to Susan who had died thirty years earlier on February 23, 1869. Not far from the Hoges' graves is that of Mose Hoge's good friend and mentor, William Swan Plumer. The Hoges had four children living at the time of his death—Moses D., Jr., was a physician; Hampden, was employed in a business; Mary R., was the wife of M. M. Gilliam; and "Miss Bessie."
BARRY WAUGH
---
Sources–include Peyton Harrison Hoge's (M. D. Hoge's nephew), Moses Drury Hoge: Life and Letters, 1899; the pamphlet, Commemoration of Forty-Five Years of Service by the Rev. Moses Drury Hoge, D.D., LL.D., as Pastor of The Second Presbyterian Church; and the history of Hoge's church is titled, The Making of a Downtown Church: The History of Second Presbyterian Church, Richmond, Virginia, 1845-1945, by Wyndham B. Blanton, 1945. The photograph of the graves was taken by the author. The arched-top grave on the left behind the row of small stones for the Hoges' children is Susan's, and the lower one on the right of it with "HOGE" is the grave of Dr. Hoge. 
Notes–Andrew Myers of Log College Press has pointed out that some sources such as Hoge's biography by P. H. Hoge has the birth date as 1818 as does the Presbyterian Historical Society in its listing for their Hoge collection. I believe 1818 is likely correct, so the 1819 year I originally had was changed January 2, 2020. Transportation has always been a dangerous business—M. D. Hoge died from injuries received in an accident with a trolley, B. M. Palmer died from injuries received in a trolley accident, and George Howe's death was due to a fall from a buggy. If you want to read more about Dr. Hoge's terrible accident see The Richmond Dispatch as presented in digital images of the pages on "Chronicling America" on The Library of Congress website. A search of dates around when the accident occurred and when he died will provide considerable material about the accident and his death.