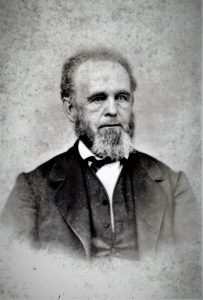 Few men were ever called to endure more afflictions and sufferings, but with extraordinary fortitude all his sorrows and trials were cheerfully borne. He buried ten children, and some eighteen months ago his beloved wife and companion was taken from him. Sunshine and shadow were often to him in juxtaposition, but whether weal or woe he always gave thanks to the Lord. One day, standing on his lot in Elmwood, and surveying the graves of his dead, he told the writer what it had cost him to part with his loved ones, of the anguish of his heart on losing them, but when he came to their graves he thanked his God for all this; it was His to give and His to take away. Out of the large household only one remains—a lovely daughter, Mrs. S. A. Douglas, who has inherited many of the qualities that beautified her father's life. She has the sympathy of everyone who knew and loved her father.
Who was this man who experienced considerable sadness yet took assurance in the sovereign, covenantal God?
Andrew Hart was born April 2, 1812 in Glasgow, Kentucky, to John Rice and Sarah (Henderson) Kerr. His father was a Presbyterian minister who would with his mother become in 1823 the superintendent and matron of the first state school for the deaf in Danville. Information about Andrew's early education was not located but his parents probably schooled him at home. John Kerr is buried in the cemetery of the Presbyterian Church in Danville, so Andrew could have continued his education at Centre College. Danville Seminary would not be established until 1853, so his ministerial education likely came through his father and any of several Presbyterians in Danville. Andrew joined the Presbytery of Louisville, Synod of Kentucky in 1836, continued until 1843, and then relocated to Tennessee to became pastor of the church in Clarksville with a tenure of four years. Memorials for Kerr mention that he suffered significant health problems which are indicated by only a year serving the Hermitage Church before being listed without call and "infirm" in general assembly minutes. By 1855 the family had moved to western Tennessee where Kerr transferred to the Presbytery of Memphis and supplied a group gathered at Big Creek that was organized with 23 members as the Delta Presbyterian Church July 25, 1857. The family was of sufficient means that Rev. Kerr influenced the leaders of the railroad to run their tracks through Delta which led to expansion of the town and prosperity for the residents. The town was renamed Kerrville in 1873 to honor his influence and support. Andrew Hart Kerr, D.D., died September 16, 1883.
Kerr does not appear from the brief biographical information available to have been sufficiently prominent in the Presbyterian Church in the United States (primarily in the southern states that separated from the PCUSA in 1861) to be considered a candidate for moderator of the General Assembly, but he was elected moderator in 1866. The PCUS was still holding assemblies in November, which was a practice started in 1861 and would not change to May meetings until 1868. In 1866, commissioners convened in First Church, Memphis, November 15, with retiring moderator George Howe delivering his sermon from Zechariah 4:6, 7, 10. Kerr's election was an honor he appreciated immensely, and it was particularly meaningful because his thirteen-year-old son, Andrew Jr., was in attendance to observe the proceedings. The PCUS was continuing to define its denomination apart from the PCUSA with issues addressed including—beneficiary education (scholarships, funds for "poor and pious youth"); publishing a hymn book with debates about psalmody; revised parliamentary rules; revision of "Canons of Discipline"; religious instruction of the formerly enslaved (freedmen); changing some synod boundaries; a report about the PCUS charter; a committee was appointed to confer with the Cumberland Presbyterians about union; but interestingly, there were no judicial cases. Also, William S. Plumer was elected Professor of Didactic and Polemic Theology at Columbia Seminary and there was discussion of relocating the seminary "to some point west of the line dividing the States of Alabama and Georgia." When the sessions adjourned on Tuesday, November 26, the proceedings had gone well and Andrew, Jr. had shown great interest.
But there was a problem following the General Assembly and it was one that often occurred over the years in the city by the Mississippi—water and mosquito borne diseases . This time the disease was cholera. Father and son returned to the hotel from First Church and in the evening the symptoms of cholera appeared in Andrew, Jr. It literally came upon him all of a sudden. The disease took its course rapidly, he suffered and died on the twenty eighth, and was buried in Elmwood Cemetery. Andrew and his wife received condolence letters from Joseph R. Wilson, William L. Breckinridge, and George Howe.
But this tragedy was just the beginning. Cholera was not finished with the Kerr household. During the next summer several servants died of the disease and the oldest Kerr daughter, Mary Clarissa, died in August. Mary had become a communing member of the church when she was thirteen. Added to this was Dr. Kerr became very ill with an unnamed disease that extended for some time, however, despite advice to stay home and recuperate he attended the General Assembly of 1867 when it convened in First Church, Nashville, November 21. He delivered his retiring moderator's sermon from Psalm 48:1, 14.
Great is the Lord, and greatly to be praised in the city of our God, in the mountain of his holiness.…For this is our God forever and ever; he will be our guide even unto death.
The words even unto death would have renewed meaning for the Kerrs. The next day Dr. Kerr gathered for dinner with friends in Nashville. The good time was short lived because he received a telegram informing him that his eight-year-old daughter Sarah Ward—endearingly called Sallie, died that morning of what was diagnosed as croup. In the course of one year three of his four children passed away. Added to the loss of these children were three infant sons lost before Andrew was born and another four children that died in later years. Mary Indiana C. Kerr was the mother of Andrew, Jr., and Sallie, but whether she was the mother of Mary Clarissa and the daughter that survived to adulthood cannot be affirmed. At the time of the tragic year, T. D. Witherspoon was minister of Second Presbyterian Church in Memphis. He and Kerr were close through their association in the Presbytery of Memphis. Witherspoon published Children of the Covenant in 1873, where he provided accounts of their lives and he used them to encourage Christian parents and their baptized children to live as heirs of the Covenant of Grace. Anyone who has been a Christian for awhile has known families in church that have suffered, it seems, more than their fair share of difficulties, but as was the case for the Kerrs, suffering saints should be comforted in the Lord of the Covenant, "For this is our God forever and ever; he will be our guide even unto death."
Barry Waugh
---
Notes—the header is from and 1870 sky view image available from the Library of Congress digital collection. The portrait and some biographical materials were provided courtesy of Wayne Sparkman of the PCA Historical Center. C. N. Willborn's article "A Children's Book about God's Hesed: T. D. Witherspoon's Children of the Covenant, in The Confessional Presbyterian 14, 2018, engagingly presents the book (with greatly improved engraved individual portraits of the children) to challenge parents today with respect to responsibilities of the Covenant. The opening paragraph is excerpted from "In Memoriam" by John H. Lenow published in the Memphis Daily Appeal, Sept. 23, 1883. Information about the Kentucky School for the Deaf is from state historical marker 197 which is located at 4th and Main in Danville; Kerr's parents served there 1823-1833. Centre College has CentrCyclopedia online which has a brief history of Danville Seminary. History of the Presbyterian Church in the State of Kentucky: with a Preliminary Sketch of the Churches in the Valley of Virginia, 1847, by Robert Davidson, provided information about John R. and A. H. Kerrs' memberships in the Synod of Kentucky. According to Minutes of the General Assembly of the PCUSA, 1821-1837, John Rice Kerr passed away by May 1834; he was a member of Transylvania Presbytery.