The first annual meeting of the General Assembly of the Presbyterian Church in the United States of America (PCUSA) convened in 1789 in Philadelphia, Pennsylvania. The third assembly, the one that John Woodhull was elected moderator, was also held in Philadelphia. From 1789 through the division of the PCUSA into Old School and New School in 1837, the meetings were all held in Philadelphia except for two in Carlisle, one in Pittsburgh, and one in Winchester, Virginia, which explains why some commissioners coming from more distant presbyteries complained about the Philadelphia-centric assemblies. However, the Philadelphia hub was to a great degree due to William Penn's Pennsylvania providing the best opportunity for Presbyterian expansion because in other British colonies the Church of England was established—Presbyterians were considered dissenters requiring licenses to preach and were subject to the whims of colonial governors and the current politics of religion. Though personally a Quaker, Penn's colony was open to other religious groups in addition to Presbyterians, such as Anabaptists, Lutherans, and others who were not permitted in other British colonies or required special permission to hold services. E. S. Gaustad's Historical Atlas of Religion in America, 1962 edition, presents the distribution of Presbyterians and Quakers in Pennsylvania circa 1850. One map shows that Pennsylvania's Presbyterians had churches in all counties of the state but two, while the map for the Quakers shows their greatest density of congregations in the counties of the southeastern corner of the state with little or no presence in other counties. Pennsylvania's toleration of non-Quaker religious groups facilitated the preponderantly Presbyterian presence in the state and resulted in Philadelphia becoming the heart of the PCUSA.
John Woodhull was born to his like-named father and mother, Elizabeth, at Miller's Place, Long Island, January 26, 1744. Mrs. Woodhull was the daughter of Major William Henry Smith who owned St. George's Manor on Long Island. The property had been inherited from his father. Infant John was the second born of a nine child household that included eight sons and one undoubtedly greatly pampered daughter named Elizabeth. The Woodhulls were descended from Richard Wodhull (early variant spelling) of Brookhaven, Long Island, who had settled in the colony in the mid-seventeenth century. As John matured he received preparation for further studies in a school mastered by his mother's brother, Rev. Caleb Smith (Yale 1743), a minister in what is currently Orange, New Jersey.
After completing his preparatory studies, John entered the College of New Jersey (Princeton College) in 1762. The year before his matriculation, Irish-born Samuel Finley, became the college president. The struggling institution had been led by four short-tenure presidents and several interregnums since its founding in 1746, so it was hoped Finley would bring stability but those hopes were dashed when he died just five years into his presidency. Finley had studied in the predecessor of the College of New Jersey, which was William Tennent's Log College in Neshaminy, Pennsylvania. Woodhull and Dr. Finley enjoyed a close friendship. While pursuing studies he came to believe in Christ during one of the college revivals or times of spiritual emphasis. He completed his studies for the A.B. in 1766 then proceeded to Chester County for divinity training under the instruction of Rev. John Blair. Blair was the pastor of Fagg's Manor Presbyterian Church having succeeded his older brother, Samuel. A call to Fagg's Manor included shepherding the congregation, teaching in the academy, and tutoring candidates for the ministry. Woodhull would later in life decline a call to pastor the Fagg's Manor Church.
Completing his training with Blair, Woodhull took his next step in life seeking a call to a church. He was considered an eloquent and competent candidate for pastoral ministry. When visiting local pulpits to preach, his renown as a preacher often led to crowded services with many curious locals added to the pews. Of the several opportunities he was considering, his sense of duty and the needs of the congregation led him to accept a call to the Leacock Church in Lancaster, Pennsylvania. He was ordained and installed its minister on August 1, 1770. During his early years of ministry he married Sarah Spafford who was the only child of Capt. George Spafford of the Royal Navy and the stepdaughter of Rev. Gilbert Tennent. As was common for ministers of the day, Woodhull operated a grammar school where many students were taught and some went on to be ministers themselves. As did Samuel and John Blair, Woodhull tutored candidates for the ministry, but once the General Assembly established Princeton Seminary in 1812, he ended his tutoring of divinity candidates and instead directed them to attend the new seminary. As the years of Woodhull's work passed, he showed himself to be an ardent supporter of both the college and seminary in Princeton. He spent considerable time during his life visiting Princeton because he was a trustee of the college, 1780-1824, and he worked on the seminary board, 1813-1824, with the last four years served in the vice presidency.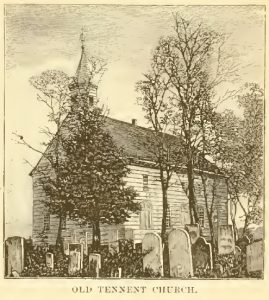 After nearly a decade in Lancaster, Pastor Woodhull resigned to accept a cull to the congregation in Freehold, New Jersey, known currently as the Old Tennent Church. The Freehold Church was organized, June 3, 1730, and in November of that year Rev. John Tennent was ordained and installed for what would be a brief tenure ended by his death on April 23, 1732. The church continued with its vacant pulpit until September of the following year when Rev. William Tennent, Jr.—the recently deceased pastor's brother—began his ministry that would continue for over forty years. Thus, with the death of Rev. Tennent in 1777, John Woodhull was installed pastor.
John Woodhull enjoyed a varied ministry and saw his homeland change from a colony under British rule to a republic. During the American Revolution he was a dedicated patriot supporting the cause of independence. From 1777 to 1779, he was the chaplain of the 5th Lancaster Battalion Militia. Testifying to Woodhull's interest in the cause of independence, W. B. Sprague provided in his biography an account of his first
meeting with the elderly minister. In the winter of 1818, with a letter of introduction in hand from Samuel Miller of Princeton Seminary, Sprague visited Freehold "to pass a Sabbath with Dr. Woodhull." Enjoying the family's hospitality, Sprague listened to the elderly minister for several hours while eating some delicacies from Sarah's hearth. Woodhull mentioned to Sprague that the house in which they were conversing, the manse, was very near the site of the Battle of Monmouth, and he told several other stories of his association with the American Revolution.
Even though John Woodhull was well-known minister in the church of his day, his name is not one that jumps to mind as a founding father of American Presbyterianism. A likely reason for his anonymity is, as he said himself, he spent his days non in legendo,
aut in scribendo, sed in agendo—"not in reading and writing, but in abundant labors." He lived up to his Latin moto well because his extant writings number but two. A sermon titled, "An Ordination Sermon," using Revelation 2:10 for its text was published in a book titled, The New Jersey Preacher, 1813, which was edited by his brother George. Maybe George prodded his brother to contribute to the book despite his expressed opposition to publication. When President Washington declared November 26, 1789 a day to remember God's goodness regarding the success of the Revolution and the writing of the U. S. Constitution, he responded with A Sermon, for the Day of Publick Thanksgiving, Appointed by the President, which was then published in 1790 in a forty-page pamphlet.
His abundant activities included not only pastoral work caring for his congregants, but he was also an active churchman contributing his share to the work of the judicatories and interdenominational ministries. He was stated clerk of the Presbytery of New Brunswick, 1781 to 1801, and was the moderator of the last meeting of the Synod of New York and Philadelphia in 1788. He was a member of the committee composing the first edition of The Constitution of the Presbyterian Church, and, as was mentioned earlier in this biography, he moderated the third General Assembly in 1791. Woodhull was not only eagle eyed sighting opportunities for new churches, but was also sought for assistance with their ministries and resolution of conflicts. When he was available to fill the pulpit, the local churches were happy to have Dr. Woodhull because his style of preaching was simple, clear, and earnest. He said to his students—think deeply, but speak plainly. Strong content presented in simple terminology contributed to his popularity with the people in the pews. 
Rev. John Woodhull died November 22, 1824. He was honored with his "D.D." (Doctor of Divinity) by Yale College in 1798 during the presidency of Rev. Timothy Dwight. About fifty feet from the church he served for so many years is his grave where he awaits the resurrection of the dead. Sarah would survive him by only a few years dying on October 14, 1827. They enjoyed the births of five boys and one daughter, Sarah, who was likely pampered by her brothers and parents much like her aunt Elizabeth had been by her family. Daughter Sarah would marry Major William G. Forman and move to Mississippi where she would predecease her parents. Of the sons—John died in infancy, William Henry trained for the mercantile business but died during the yellow fever epidemic in New York in 1798, George Spafford followed in his father's footsteps by becoming a minister, and John Tennent and Gilbert Smith both became physicians.
BARRY WAUGH
---
Notes—Fagg's Manor Presbyterian Church is extant as Manor Presbyterian Church, PCA; there is an old cemetery across the street from the church building. A variant spelling for Leacock is Laycock. The book by E. S. Gaustad referred to in this biography is Historical Atlas of Religion in America, New York: Harper and Row, 1962; the maps consulted are on pages 89 and 94; this edition was the one available to me but revised editions were published in 1976 and 2001. The maiden name of John Woodhull's wife, Sarah, is spelled in some sources as "Spafford," but other sources rendered it "Spofford." The church where John Woodhull ministered is extant as Old Tennent Church (PCUSA) and was restored in the 1980s. The inscription on Samuel Blair's grave reads—Here Lyeth the Body of / the Rerd Mr SAMUEL BLAIR, / who departed this Life / the 5th day of July, 1751. / Aged 39 Years & 21 Days. / In yonder ∫acred Hou∫e, I ∫pent my Breath: / Now ∫ilent mouldering, here I lie in Death: / These ∫ilent Lips ∫hall wake, and yet declare: / A dread Amen, to Truths they publi∫hed there. / Fir∫t Pa∫tor of this Church.
Sources—The information on Samuel Finley was found primarily in A Princeton Companion, by Alexander Leitch, Princeton University Press, 1978. The main source used was the published memorial for Woodhull titled, A Sermon Preached at Freehold, Nov. 25, 1824, on the Death of the Rev. John Woodhull, D.D., Late Pastor of the Presbyterian Church of Freehold, New Jersey, by Rev. Isaac V. Brown, 1825, which was likewise used extensively by W. B. Sprague in his Annals, vol. 3, and then used liberally in the Woodhull ancestry book, Woodhull Genealogy: The Woodhull Family in England and America, compiled by Mary Gould Woodhull and Francis Bowes Stevens, 1904. Another source used was Princetonians, 1748-1768, Princeton University Press, 1976, by James McLachlan, which has a Woodhull biography on pages 600-602. The pictures of the historical sign and Samuel Blair grave were taken by the author, and the sketch of the manse, images of Woodhull, and the drawing of Old Tennent Church are from, Old Tennent Church with Biographhical Sketches of its Pastors, F. J. Symmes, Freehold, 1897.