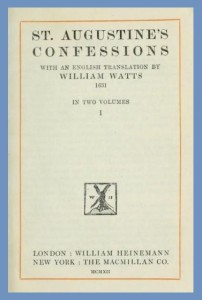 On October 31, 2015, the four-hundred-ninety-eighth anniversary of Martin Luther's posting of his ninety-five theses on the Wittenberg Castle Church door in Germany will be remembered. The Augustinian monk's act was not vandalism but a call for discussion and debate of his ninety-five points regarding the use of indulgences in the Roman Catholic Church. In honor of this important event for Protestants, whether of Presbyterian and Reformed or another Protestant confessional history, Presbyterians of the Past, will have postings related to the Reformation for the month of October.
What does Bishop of Hippo Augustine have to do with the Reformation? To some degree, the Reformation was a rediscovery of the writings of Augustine. Augustine's works are numerous and some of the better known ones are On the Trinity, The City of God, and the Anti-Pelagian Writings. However, the book that is likely most often remembered is Confessions which is unique, introspective, and personal. Confessions has been the subject of articles and books from a variety of perspectives and its message is timeless because at its core is the grace of the gospel. Thus, for Reformation Day 2015 an article by the author of Presbyterians of the Past titled, "Augustine's Quest for Rest in His Confessions," is available for free PDF download at the link below. It is hoped that my article helps readers to gain an appreciation for the insight of Augustine as he struggled long and hard down the road to understanding the Gospel. Not only was Martin Luther an Augustinian monk, but his own difficult route to comprehending temptation, sin, grace, and justification by faith are reminders of some of Augustine's experiences in Confessions.
BY BARRY WAUGH
---
For a free PDF of the article, "Augustine's Quest for Rest in his Confessions,"
by Barry Waugh, click Download Now!
---
The photograph of the pears is by Alicja from Pixabay .
---