One of the difficulties faced when writing biographies about church personalities from the past is locating information about the service of members that were not ministers. Sources regarding ministers are fairly common; sources for workers and officers seated in the pews often are not. There are exceptions regarding some in the history of the church such as has been seen in the biographies of Cyrus McCormick and Samuel Miller Breckinridge, and will be seen in the current biography of Mr. Smyth. However, these successful public figures and entrepreneurs left sources that are concerned more with their professional achievements than their involvement in churches. Thus, this biography of E. A. Smyth focuses heavily on his career while the account of his church life and work is limited. The Lord has used the wealth of the prosperous over the years whether it was from Joseph of Arimathea, Lydia, or Christians in later history such as E. A. Smyth, however many members of the Kingdom that were not clergy have worked hard but inconspicuously over the centuries for its expansion. Anyone who has been in the Church for some years knows individuals that have served faithfully for the simple joy of honoring their Lord; it is not the intention of the author of these biographies to exalt certain Christians because they had business acumen and financial success, it is simply that a historian's writing is, unfortunately, limited by the available sources.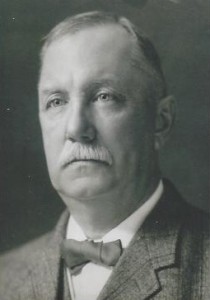 Joseph Ellison Adger Smyth was born in Charleston, October 26, 1847. His mother Margaret was a member of the Adger family of Charleston which had prospered greatly from shipping, warehousing, and hardware. If one travels down East Bay Street, the cobblestone streets marked by "North Adger's Wharf" and "South Adger's Wharf" provide access to the pier from which one can view Patriots' Point. The Adgers' operated warehouses in this general area originally known as "Adger's Wharf."  Ellison's father was Rev. Thomas Smyth who was at the time the minister of Second Presbyterian Church, which was the place of his first and only pastoral call serving there for forty years. Ellison's education included home schooling and private teachers combined with a time of residence studies in Columbia. He had the advantage of growing up in the home of his antiquarian father whose collection of books, maps, and manuscripts, were used to expand the breadth and depth of Ellison's education. His studies prepared him for entrance into South Carolina Military College (The Citadel), where he studied until 1864 when he served in the Confederate Army.
Following the war, E. A. Smyth's interests led him in a different direction than the ministry; he looked to his mother's side of the family and their facility with business and finance. Ellison became a junior partner with the hardware establishment of J. E. Adger & Co. As with many who enter family businesses, Ellison was given a variety of jobs in various areas to provide experience in all aspects of the enterprise. It was while he was on a business trip for the Adgers to Baltimore that Ellison smitten by lovely Julia Gambrill riding past him in a trolley car. He followed her home where he received permission from her father for courting. Ellison and Julia were married in 1869 and lived initially with his mother and father in their home in Charleston. However, the situation was changing at J. E. Adger & Co., which prompted the young businessman to become involved in a new business venture that would take him and his family to another part of the state.
Maybe it was the manufacturing machinery coming into the port of Charleston at the Adgers' piers from industrial powerhouses such as Manchester, England, that grabbed his attention regarding the up and coming textile industry, or possibly it was the investment acumen, advice, and funding of the Adger family that led him into the business, but whatever the case, he was entering uncharted territory given that he had never been inside a textile mill. E. A. Smyth and Francis J. Pelzer of Charleston formed a partnership to build a textile facility in Anderson County along the Saluda River that became Pelzer Mills. Over the years the mill was expanded and a mill community was constructed for the labor force. "Captain" Smyth, as he was often called as the years passed, was president and treasurer of Pelzer Manufacturing Company for 43 years until it was sold in 1923 to Lockwood, Greene, and Company for several million dollars. In 1899, E. A. Smyth organized Belton Mills in Anderson County and was also instrumental in the organization of a bank in the town. The Smyths at one point moved from Pelzer to Greenville where he was involved in a number of enterprises including The Greenville News, which he had controlling interest in for seventeen years until he sold out in 1919 to its manager at the time, B. H. Peace. In 1920, he sold the majority of Belton Mill stock to Woodward, Baldwin, and Company. Captain Smyth served as president of the Cotton Manufacturers Association of South Carolina for fourteen years and at one time was president of the American Cotton Manufacturers Association. He was instrumental in the enactment of compulsory education laws for South Carolina's children as well as a leader for enacting laws requiring registration of marriages and births in the state. Long before the enactment of labor laws, he set up a system in his mills to prevent the employment of children under twelve years of age while providing schooling up to that age. In the twenty-first century, limiting employment to children twelve and above may seem primitive, but in the era, it was a progressive move that protected the young and freed them for education. 
So much for the business acumen of E. A. Smyth, it is now time to turn to his work as a member of the Presbyterian Church. The Pelzer Presbyterian Church in the mill community had its beginnings and organization with help from Smyth. On November 20, 1881, in the meeting hall over the Brown, Williams, and Company Store, Rev. C. L. Stewart delivered the first Presbyterian sermon preached in the Pelzer community. The service and the Bible passage for the exposition were requested by Capt. Smyth. The text was Philippians 1:27, "Stand fast in one spirit, with one mind, striving together for the faith of the Gospel." For Presbyterians, the decade of the 1880s proved divisive with polarization over efforts to revise the Westminster Confession of Faith, and because of  heresy cases involving Charles A. Briggs of Union Seminary in New York (P.C.U.S.A,), and James A. Woodrow of Columbia Seminary in South Carolina (P.C.U.S.A.). Smyth's request for a Bible text to be preached in which Paul called for holding to truth not only expressed his hope for the Pelzer church but also his concerns about the direction of Presbyterianism. From that first service and into 1882, the Presbyterians were able to have occasional preaching in Pelzer, but by the next year, the small group was of sufficient size to request Enoree Presbytery of the P.C.U.S. to organize the church. The petitioners' request was granted and on October 29, 1883, a commission conducted the service organizing the church. Included among the nine original members of the congregation were E. A. and Julia Smyth. The Pelzer congregation was able to construct a church building that was dedicated in a service led by Rev. G. R. Brackett of Second Presbyterian Church, Charleston, on February 2, 1896. In 1892, the Second Presbyterian Church of Greenville was organized with a congregation that included E. A. and Julia Smyth, their son James Adger, and their daughter Margaret Smyth McKissick. Capt. Smyth's motions to name the church, locate it on the west side of the Reedy River, and elect elders and deacons were adopted to accomplish these purposes. However, his interest in supporting the starting of new churches extended to other congregations in the area.
Two other churches that E. A. Smyth was involved in founding were Fourth Presbyterian in Greenville, and First Presbyterian in Hendersonville, North Carolina. He was a member of the presbytery commission that organized Fourth Church in 1912 and he donated the land upon which the facility was constructed near his home in Boyce Gardens. In Smyth's later life he was a member of the First Presbyterian Church of Hendersonville. The Smyths had purchased a home not far from Hendersonville in Flat Rock which served first as a summer residence but became in later years their primary home. The house is known today by its name that was given to it by the Smyths, "Connemara," which is open as a museum for the owner that followed the Smyths who was, ironically given Smyth's service for the Confederacy, Carl Sandberg, whose fame would come from his biography of Lincoln that earned the Pulitzer Prize. Ellison was largely responsible for funding the construction of a Sunday school building in Hendersonville built as a memorial to his son, James Adger Smyth, who died in 1928 as the guests were gathering for his son Joe's wedding the following day.
There were other aspects of E. A. Smyth's life that can be traced to his heritage as a Presbyterian and the son of a minister. Not only did he follow in his parents footsteps in the church, but he also learned the love of books from his minister father. However, Smyth's interest was primarily in collecting old manuscripts and books of South Carolina history. Over two hundred of E. A. Smyth's books were donated to the archives of Presbyterian College in Clinton. He also served on the Presbyterian College board, 1913-1924, and in October 1924, he was awarded an honorary doctorate at the dedicatory exercises for the Thomas Smyth Dormitory.
Joseph Ellison Adger Smyth, member of the Presbyterian Church, ruling elder, supporter of new churches, and South Carolina textile manufacturer died at Connemara on August 3, 1942. Two funeral services were conducted in his memory with the first held at Connemara by Rev. L. T. Wilds, pastor of the First Presbyterian Church of Hendersonville, and the second was at his family's home church, Second Presbyterian, Charleston, where he was buried in the cemetery next to Julia who had died in 1927. Capt. Smyth had dropped the use of "Joseph" early in his life, but his grave marker provides his full name. Written on his marker is the quote, "A man resolved and steady to his trust; inflexible to ill and obstinately just" (Horace). Ellison and Julia had twelve children together including eight daughters and four sons, but seven of the children died before they were seven years of age.
Barry Waugh
---
Notes—The header map section of the upper counties of South Carolina is from page 110 of Winston's New and Complete Atlas of the World: with New Maps of Europe, of Canada and its Provinces, of the United States, its Forty-eight States, its Territories and Insular Possessions and Maps of the Whole World with Boundaries as Established by the Treaties of Peace Following the World War; with Population Figures from the Latest Authorities Including the United States Census of 1920, Philadelphia: John C. Winston Co., 1921; Pelzer is south southwest of Greenville just barely in Anderson County; an informative and nicely done atlas. Other sources include: Louisa Cheves Stoney, editor, Autobiographical Notes, Letters and Reflections by Thomas Smyth, Charleston: Walker, Evans, and Cogswell Company, 1914; C. L. Stewart, Historical Sketch of the Presbyterian Church of Pelzer, South Carolina, Delivered Sunday, Jan. 10, 1897, Printed by Order of the Session, 1897; F. D. Jones and W. H. Mills, History of the Presbyterian Church in South Carolina Since 1850, Columbia: R. L. Bryan Co., 1926; and E. A. Smyth's obituary in The Greenville News, Tuesday, Aug. 4, 1942.