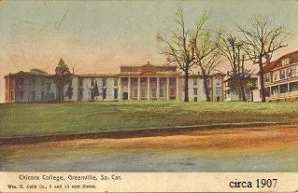 Up until roughly the end of the nineteenth century, Presbyterian and Reformed denominations in the United States opened a number of educational institutions. In South Carolina, Chicora College was one of several Presbyterian schools that has either dissolved or merged with other institutions. Laurensville Female Seminary, Mt. Zion College, Yorkville Female Seminary, and Adger College no longer exist, but Presbyterian College continues in Clinton while Columbia Theological Seminary has moved to Decatur, Georgia. For a list of the schools in South Carolina see pages 174-176  of Joseph B. Martin's "Guide to Presbyterian Ecclesiastical Names and Places in South Carolina 1685-1985," in South Carolina Historical Magazine, volume 90. Volume 95 provides an update in the article, "More Presbyterian Ecclesiastical Names and Places." Added to the schools already mentioned were several classical curriculum preparatory academies and high schools that were often associated with a local church or operated independently by the minister of a particular congregation. Also, the Associate Reformed Presbyterian Church has both Erskine College, founded 1835, and Erskine Seminary, founded 1837, which are both in Due West as they approach their 200th anniversaries.
As public schools and colleges increased in number and more rapid methods of transportation developed in the nineteenth century, the local church-related academies and colleges suffered dwindling enrollment leading to inadequate funding and either closing or absorption by a more stable school. Chicora College's history followed this paradigm in that it enjoyed several years of success, but then it was moved because of its financial stability to merge with a college that was short of funds. Chicora continued in Columbia but as the dollars and students dwindled it was absorbed by what is currently Queens University in Charlotte.
Barry Waugh
---
To obtain a PDF copy of the "Genetic History of Chicora College," which provides a brief account of the school's history and is illustrated, click
It was necessary to compose the document on an 11 x 17 page size due to formatting problems for a standard 8.5 x 11.
---
Also, for a free PDF copy of the publication, Bulletin: Chicora College for Women, Series 2, July 1916, No. 1, Book of Views, Columbia, South Carolina, which has been scanned from the author of this site's copy, click
---
Finally, for a copy of this panorama photograph which shows the campus in Columbia as it is provided in the center of Bulletin: Chicora College for Women, click
---
Source–The color postcard image is from the digital collection of the Greenville County Library System.