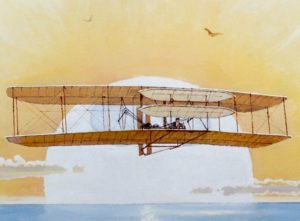 The Greenville Daily News in South Carolina reported on Wednesday, Sept. 29, 1909, that two rival pioneering aviators, Glenn H. Curtiss and Wilbur Wright, had competed in their aeroplanes over the city of New York before thousands of spectators. In the morning, Wilbur had circled the Statue of Liberty, flew above Governor's Island, and then followed the North River. As he navigated along the waterway he saw below him numerous boats log jammed and each vessel overloaded with passengers cheering wildly. Curtiss was only able to accomplish a brief flight that morning, but he vowed to follow a longer route in the afternoon. Score one for Wilbur Wright and his blistering speed of 40 miles per hour while achieving the nose-bleed altitude of 300 feet. The News commented further that there was "considerable rivalry between Wright and Curtiss as to which shall capture the honors of the exhibition." It was observed that Curtiss's aeroplane "retained its equilibrium better" than the Wright flyer. Twenty years later the rivalry between the pioneer aviators ended when they merged to form Curtiss-Wright Corporation. However, any excitement felt by Greenville readers was dampened by the disheartening report a few pages later in the News announcing the death of R. E. Allen.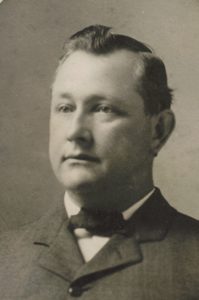 Robert Emmet Allen was born July 2, 1857, and grew up in Due West, South Carolina, experiencing the love and discipline of Irish Presbyterian parents. He attended, but it is not clear if he graduated, Erskine College before relocating to Greenville for employment with Ferguson and Miller, who were leading grocers in the area. He worked for them for several years until in 1882 when he joined with his brother Herbert to establish his own grocery store. The two brothers continued providing retail groceries to Greenville's West End until 1898 when they formed R.E. Allen, Brother, & Co, which sold wholesale groceries. Robert was also the vice president of the American Bank for several years.
R. E. Allen was married twice. While working with Ferguson and Miller, he married Jessie Grady of Greenville. She was born February 9, 1857 to John W. and Louisa Ward (Johnson) Grady, but Jessie died on July 4, 1880. The Enterprise and Mountaineer commented with the sensitivity and discreetness of the day that the "circumstances attending her death are too sacred and sad to more than allude to," but it added that her family was by her bed when she passed away. Jessie's memorial service was held at the Washington Street Presbyterian Church (First) by pastor, Robert H. Nall, with the assistance of Dr. Charles Manly of the Baptist Church. Jessie was buried in Springwood Cemetery. Just over a year later on October 4, 1881, Robert married Cornelia Bennett Seyle. She was a daughter of the Low Country born in Charleston, October 8, 1857. Robert and Cornelia were married in her home at 100 Saint Phillip Street by Rev. A. Coke Smith, who was the pastor of Trinity Methodist Episcopal Church, South, in Charleston.
Robert was active in the Washington Street Church which he had joined on August 23, 1876. Thirteen years later he was ordained a deacon. He continued at Washington Street until becoming a member of the group establishing Second Presbyterian Church in the West End, March 17, 1892. Whether or not the organization date was selected because it was Patrick of Ireland Day and some organizing members had shamrocks in their ancestry is not known, but maybe it was just a coincidence. R.E. Allen not only served the congregation as an elder but was also the clerk of session, 1892-1904, and the Sunday School superintendent. He was active in presbytery, synod, and general assembly. For example, Robert, and another ruling elder, J.A. Russell, joined teaching elders N.J. Holmes, T.M. McConnell, and J.W. Query, in Enoree Presbytery's commission to organize forty-one individuals into the Third Presbyterian Church in Greenville on Sept. 26, 1893.
Mr. Allen was stricken with paralysis while attending services at his church about three weeks before he died at the age of 53 in his home on River Street, September 29, 1909. His funeral was held in his church two days later on Friday morning. In honor of his memory, the banks of Greenville closed because he had been vice president of the American Bank and was highly respected. The active pall bearers were his nephews J.N. Allen, J.E. Allen, H.L. Allen, R.E. Allen, Jr. (a son of H.W. Allen), H.M. Allen, W.L. Allen, Robert Garlington, Lewis Garlington, and Robert G. Brownlee. The honorary pallbearers included Second Church Clerk of Session J.C. Bailey, ruling elders O.P. Mills, E.G. Mallard, and James F. Mackey, along with other members of the community. He was survived by two brothers and a sister.
According to the obituary in the Greenville News, Oct. 1, 1909, "Mr. Allen was a kind and devoted husband and was greatly loved by the members of his household. He was agreeable and friendly in church and social circles, genial in his manners, urbane in his interaction, sympathetic to the distress of others, recognizing no line of class distinction in his conduct with others. To him honor was both a hostage and a life-guiding principle. He was loved as brother, churchman and neighbor" (p. 5).
Cornelia survived her husband by several years dying October 17, 1924. Robert had died on a day when two examples of his era's greatest technological innovation, the aeroplane, flew competitively in New York, and Cornelia was killed from injuries received while riding in another mechanical marvel of the day called the automobile.
Respect and honor for Cornelia were shown when the funeral service was held at 4:00 on Saturday, October 18, 1924, in her church. Pastor E. P. Davis led the service. The honorary pallbearers included T. M. Bennett, Alvin H. Dean, G.A. Buist, and ruling elders W.P. Anderson, D.W. Cochrane, E.G. Mallard, Jr., R.A. Means, J.E. Means, G.A. Buist, J.N. Bell, S.D. Patrick, and Frank Taylor. The active pallbearers were M. O. Alexander, W. E. Holbrook, W. B. Smith, W.P. White, Frank H. Earle, John S. Taylor, W.G. Gresham, and Milton Smith. J.F. Mackey and Sons provided services for her burial in Springwood beside Robert and Jessie. Cornelia Allen was survived by her two brothers, T.J. and P.W. Seyle, and her niece, Miss Jessie Garlington. Robert and Cornelia did not have any children and it is not believed that he had any children with Jessie. It may be that when Robert's brother Herbert and his wife named one of their sons Robert E. Allen, Jr., it was so Robert could consider his nephew a son.
Barry Waugh
---
Notes—The header image is "South Main Street, Downtown Greenville," 1918, from the online digital collection of the Greenville County Library System; the color image is from the NASA collection on Internet Archive and represents a mural commemorating the first powered flight at Kitty Hawk; the portraits are used courtesy of Second Presbyterian Church. The information about Jessie Grady Allen is from The Enterprise and Mountaineer for Wednesday, July 7, 1880, page 3. Information regarding Mr. Allen was located in The Greenville Daily News for Thursday, Sept. 30, on page 5, Friday, Oct. 1, on page 5, and Tuesday, Oct. 12, 1909 on page 2. Information for Cornelia Allen was obtained from her obituary in The Greenville News, Oct. 18, 1924, page 2. An invaluable book for the study of Greenville's Presbyterian history is H. B. McKoy's, History of the First Presbyterian Church, Greenville, South Carolina, 1962. The article "Wilbur Wright Encircles the Statue of Liberty" is on the front page of the Sept. 30, 1909 issue of The Greenville Daily News. Both McKoy's book and microfilm of the Greenville newspapers are available in the South Carolina Room, Hughes Main Branch, Greenville County Library System.