Zelotes Lee Holmes constructed his eight-sided home with hand-mixed batches of concrete in Laurens in 1859. The building has been modified extensively and is currently the Octagon House Apartments. The contribution of the unique structure to the architectural history of South Carolina was recognized in 1973 when it was listed on the National Register of Historic Landmarks. The building is architecturally significant not only for its shape but also because it is an early example of concrete construction in South Carolina and some historians believe it may be the first all concrete house built in the state.
The Octagon House was made of concrete for strength and longevity. Rev. Holmes used other technologies in his house including both ancient and contemporary techniques. The walls vary in thickness from 12 to 18 inches and were formed with hollow passages for ducts to carry air throughout the structure and provide temperature enhanced ventilation. The thermal mass of the cool concrete provided a bit of relief from the heat of a sultry South Carolina summer. The sizes and designs of the windows vary, but all the windows have granite sills and lintels for strength and thermal efficiency. The use of concrete and stone not only made the house fire resistant but also provided temperature stability due to the thermal mass of the materials. The small widow's walk visible on the roof is believed to have been used by Professor of Mathematics and Natural Philosophy Zelotes Holmes as an observatory for his students from Laurensville Female College.
Zelotes was not a native of South Carolina. He was born to Alanson and Olive (Lee) Holmes at Sheridan in Chautauqua County, New York, January 3, 1815. At the age of three, his father died and then nine years later his mother passed away. An older brother took care of him until at the age of seventeen Zelotes determined to relieve his brother of the burden of his support and raised his own funds for living and education. He began working by carrying chain for a surveying crew in Sheridan, but after a few weeks he collected his earnings and prepared to move. He took his meager wages and relocated to Buffalo to live with a distant relative who gave him board and other necessities in payment for his work in a medical office. Zelotes pursued his education in a local classical academy. An education society loaned him 75.00 a year to continue his studies, to which he added his earnings of five cents per hour for gardening work when it was available.
Once he had prepared himself for further studies, Zelotes moved to Meadville, Pennsylvania, to attend Allegheny College. He was able to obtain employment and a room working as the town timekeeper. The job required him to ring the courthouse bell three times daily to inform the citizens of the time of day for setting clocks. He continued at Allegheny until after two years of study he was forced for health reasons to cease and work as a laborer to raise money for relocating to a warmer southern climate. His job did not go well. He had to sell his books and private property for enough money to visit friends in Illinois, where he sought employment in a local carriage factory. He was told there was not a job for him, but as he walked out the door his New Testament fell from his pocket. The management saw the New Testament and hired him despite the initial rejection. Once he had raised sufficient funds, Zelotes booked deck passage on a steamer to St. Louis and continued his journey from there on a steamer bound for Knoxville, Tennessee. His arrival in the lovely mountainous area of the state was not a joyous occasion.  He landed bankrupt but was able to find some work to continue his journey.
From Knoxville, Zelotes travelled to Columbia, South Carolina, to attend the Presbyterian Seminary in 1839. His finances continued to be a problem until he was aided by a stipend from an education society which was buttressed by a small salary to teach mathematics in a local seminary for women. Zelotes was not only trying to pay for his seminary education but also the debts he incurred in Buffalo while completing his college preparatory studies. Holmes graduated Columbia Seminary in 1842 with only two other classmates, David E. Frierson and Abner A. Porter, both of whom would be life-long friends. Zelotes Lee Holmes was certainly a determined, patient, and persistent young man.
Holmes was licensed in 1842 and began preaching in the Nazareth Presbyterian Church in Spartanburg County. Along with his pastoral ministry he supplied a congregation in what was then just a village, Spartanburg. His work resulted in the organization of the church in April 1843. Zelotes continued the dual ministry after he was ordained and installed in Nazareth, June 28, 1844. Later that year he married Miss Kate Nickels who was the daughter of Dr. John Nickels of Laurens County. The couple would have twelve children, seven of which would survive to adulthood. In 1849, Rev. Holmes resigned from Nazareth Church, left his supply ministry in Spartanburg, and moved the family to Laurens County.
In his new location Rev. Holmes supplied several churches occasionally or on a regular basis. He was supplying the First Presbyterian Church of Clinton when it was organized in 1855, and that same year he was called to the Rocky Spring Church for a ministry that would continue until 1871. Holmes supplied several churches during his ministry, was the stated clerk of presbytery, and a professor in Laurensville Female College. He had to limit his duties beginning in 1871 because of health problems. However, Zelotes was one of the first professors of the College of Clinton (i.e. Presbyterian College) when it opened in 1880, but due to his failing health he taught there no more than two years. He continued his work as a churchman throughout his active years and was a respected father of presbytery. He supplied the Shady Grove and Duncan's Creek churches from 1882 to 1884. Zelotes Lee Holmes died January 17, 1885, and was buried in Wright Cemetery.
Rev. William Plumer Jacobs founded both Presbyterian College and Thornwell Orphanage and at the time of Rev. Holmes's death was the minister of First Presbyterian Church, Clinton. In his diary he commented, "This day Rev. Z. L. Holmes died. He was a good, true friend of mine, the founder of this church." The Synod of South Carolina echoed the sentiment of Rev. Jacobs saying that he "was true, kind and sympathetic, generous to those who came to his house, and was himself a welcome visitor throughout the county. Few men were so sincerely lamented as he. His death has made a vacancy in many a household" (Minutes, 36).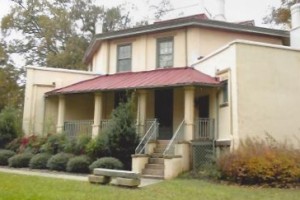 It must have been quite an experience for a visitor to approach the unusually designed Octagon House in a day when homes were often simple frame or brick boxes with gabled roofs. When visitors stopped to see Rev. Holmes, he must have delighted to tell his guests of the architectural and technological aspects of his dwelling. The house is a truly remarkable structure given its rural situation and the limited amount of industry in Laurens at the time of its construction in 1859. The Octagon House is a memorial to and a reminder of the interesting and dedicated man whose pastoral ministry and varied scientific and educational interests benefited and influenced so many of his contemporaries in South Carolina.
BARRY WAUGH
---
Notes–The header image of the all-concrete Octagon House was taken by the author in 2012. The Octagon House is on the corner of E. Main and Woodrow streets in Laurens, SC. Robert W. Bainbridge's article, "Octagon House," in Walter Edgar, ed., The South Carolina Encyclopedia, 2006, was very helpful. Rev. Holmes did not invent the concrete method of construction nor the octagonal shape of his house. Bainbridge notes the importance of O. S. Fowler's A Home for All, Or the Gravel Wall and Octagon Mode of Building, 1854, as one of the sources for the methodology in the era. The diary of William Plumer Jacobs was published as edited by his son, Thornwell Jacobs, as the Diary of William Plumer Jacobs, Oglethorpe University Press, 1937. Many of the details regarding the life of Holmes were found in the memorial for him in the Synod of South Carolina minutes for 1885. The drawing of the women's college was found in, Catalogue of the Officers and Students of the Laurensville Female College, for the Year 1858, Laurensville: Robert M. Stokes, 1858. It is a shame that the house has not been restored to its original appearance to serve as a house museum.