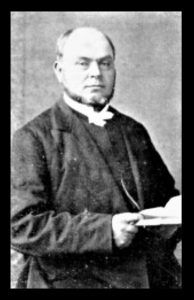 The recent death in Northern Ireland of former deputy first minister Martin McGuinness and the passing of Ian Paisley in 2014 are reminders of the more recent troubles resulting from England's rule of the Irish. Some in the States will remember the days when the evening news often reported violence between English troops and the Irish Republican Army (IRA). During the difficult years leading up to the current peace in Northern Ireland the troubles were not only between the Irish people and England, but the political issues also came forth in fighting along religious lines between Roman Catholics and Protestants including Presbyterians. Presbyterians had experienced opposition and persecution since their earliest days in Ireland and much of Irish history has been influenced by a triad of religious tension between the Church of Ireland, Roman Catholicism, and Protestants. One Presbyterian of the past in Ireland was Thomas Witherow.
Thomas was born May 29, 1824, to Hugh and Elizabeth Martin Witherow. His father was a farmer at Ballycastle, Londonderry, Ireland. Thomas's early education was in what was called a "hedge school," which was a school that met for the poor, lower class children. He continued his studies at the Belfast Academy which is currently Belfast Royal Academy. His next steps in education were completed in The Royal Belfast Academical Institution where he completed both his preparatory studies in its School Department, and then earned the general certificate from its College Department. During his college program he studied for a session in Edinburgh. The curriculum of The Royal Belfast Academical Institution was accepted by the Presbyterian Church to satisfy educational requirements for ministerial candidates.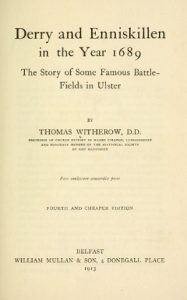 Upon completion of his studies, Thomas Witherow began the process of ordination to the ministry. He was licensed to preach by the Presbytery of Glendermott in 1844, then he was ordained October 1, 1845 in the Maghera Church by the Presbytery of Magherafelt. The long-time pastor, Charles Kennedy, was elderly and suffering from health problems so Witherow was to assist him with ministry and relieve him of some duties. The founding of the Maghera congregation had occurred in the mid-seventeenth century in a time when religious and political persecution of Presbyterians was common. When Charles Kennedy passed away in 1855 after a ministry of over forty years, Witherow became the pastor. He continued at Maghera for ten years serving the congregation a total of twenty years to the day.
In 1845 Magee Presbyterian College was endowed by Mrs. Martha Magee for the purpose of preparing candidates for ministry in the Presbyterian Church in Ireland. However, it was not until 1865 that the college opened its Gothic building on land provided by the city of Londonderry. Opening a college requires hiring faculty and one member selected was Thomas Witherow. His particular interests in church and general history added to twenty years of pastoral experience resulted in his appointment as the professor of church history and pastoral theology. His enjoyment of church history had been stimulated to a great degree by books about the Reformation written by J. H. Merle D'Aubigné. Witherow continued his work in Magee College for the rest of his life, he was a prolific writer, and he was an involved churchman. Pastor and Professor Thomas Witherow, D.D., LL.D., died in Londonderry on January 25, 1890, and was buried in the local cemetery. Thomas and Catherine Milling of Maghera had married, April 13, 1859, but she had passed away May 9, 1878 from complications of child birth added to an already weakened condition caused by a bronchial illness. Their children included two sons that died in early childhood, one son, James Milling, that survived to adulthood, and seven daughters.
Dr. Witherow was a busy professor and was honored in several ways. In 1878, he was the moderator of the General Assembly meeting in Belfast, then in 1884 he became a senator (director) of the Royal University of Ireland. He was honored with the Doctor of Divinity in 1883 by the Presbyterian Theological Faculty Ireland; the Royal University granted him the LL.D. in 1885. He wrote for serials including British and Foreign Evangelical Review (London), Belfast Witness, Londonderry Standard, Southern Presbyterian Review (U.S.), The Evangelical Witness and Presbyterian Review (Dublin), and other periodicals. He also contributed articles to The Presbyterian Review (New York) and was an associate editor when C. A. Briggs and Francis L. Patton were managing editors.
One of the purposes of Presbyterians of the Past mentioned on the "About" page is encouraging students and writers to pursue further study of subjects presented on the site. Thomas Witherow and Irish Presbyterianism in general are worthy of more study. The incomplete bibliography following "Sources" below just scratches the surface of Witherow's writings. Other topics to consider could be the influence of nineteenth-century Princeton Seminary on Ireland's Presbyterians because many Irish ministers were educated in Princeton, or the several parallels between U. S. and Irish Presbyterian history such as revivals, Ireland's own New Light-Old Light controversy, temperance, confessional subscription, re-baptism of Roman Catholic converts, and church and state relations. Ireland's first presbytery meeting was in 1642–the first presbytery meeting in the American Colonies was 64 years later, and its first general assembly met in 1840, which was 51 years after that of the Presbyterian Church in the United States of America (PCUSA). Many eighteenth-century American colonists were Scots-Irish immigrants from Ulster who brought with them their church and its Westminster Standards, but most of all the Irishman, Francis Makemie, became the father of American Presbyterianism.  
Barry Waugh
---
Notes—What is known today as "Londonderry" in Northern Ireland was originally "Derry"; the English added "London" in the seventeenth century. I did not have access to a copy but another biographical source is the pamphlet, The Life and Work of the Rev. Prof. Thomas Witherow LL.D, D.D. of Maghera and Magee College, Derry, 1824-1890, by Rev. Douglas Armstrong, Presbyterian Historical Society of Ireland, 1985. In 1949 the southern counties of Ireland became the Republic of Ireland, which was preceded in 1921 by their becoming the Free State and an independent dominion of the Crown.  The counties in the north constitute Northern Ireland, which is a part of the United Kingdom. 
Sources—A very good concise book for an introduction to Presbyterianism in Ireland is by Finlay Holmes, The Presbyterian Church in Ireland: A Popular History, Blackrock, County Dublin: The Columba Press, 2000, 168 pages with index; Professor Holmes taught church history in Magee College (where Witherow taught), Union Theological College, and the Faculty of Theology in Queen's University. Two other sources are the Dictionary of National Biography, vol. 62, 1885 edition, and W. D. Killen, History of Congregations of the Presbyterian Church in Ireland and Biographical Notices of Eminent Presbyterian Ministers and Laymen, Belfast: James Cleeland, Edinburgh: James Gemmell, 1886. The photograph of Dr. Witherow was kindly provided courtesy of the Presbyterian Historical Society of Ireland.
Some Maghera Presbyterian Church register records have been transcribed online at the Bann Valley Genealogy Church Records site. These records tell about Witherow's work to compose a history of the congregation despite sparse records and they provide information regarding his ordination.
Magee College is currently incorporated into the University of Ulster which has a page on its library website titled "A History of Magee College." The original Gothic building of the college is extant.
---
Bibliography
The author of this site decided to research Witherow after reading a copy of, The Apostolic Church, Which is It? The book provides a handy, simple, straightforward presentation of church rule by elders presenting the two-office view, elders and deacons. The following is a list of several editions that were published, but the list should not be considered complete. Its numerous editions indicate its popularity.
I believe but am not sure that the 1st edition is A Defence of the Apostolic Church: Including an Examination of the Claims of Independency to be a Scriptural System: In Answer to Rev. R. H. Carson, Belfast: Shepherd & Atchison; Maghera: T. & M. Kerr, 1856.
An edition of 109 pages was published in 1867 in London by James Nisbet & Co. with the title, An Inquiry into the Scriptural Form of Church Government. (Extracted and Abridged from "The Apostolic Church."), which had portions of the text removed including all of chapter four in order to tailor the book for readers in England.
Likely issued in 1869 and stated to be the 4th edition is The Apostolic Church Which Is It? An Inquiry at the Oracles of God as to Whether any Existing Form of Church Government is of Divine Right, which was published in Belfast by C. Aitchison, in London by Hamilton, Adams, & Co., and in Edinburgh by A. Elliott; the date of publication is based on Witherow's dating his preface March 1869.
In the United States it was published with 123 pages in Philadelphia by the Presbyterian Board of Publication (PCUSA) and was edited and annotated by R. M. Patterson bearing the title, Which is the Apostolic Church? An Inquiry at the Oracles of God as to Whether any Existing Form of Church Government is of Divine Right, [1873?].
Though undated, the edition of Witherow's book titled, The Apostolic Church, Which is It? An Inquiry at the Oracles of God as to Whether any Existing Form of Church Government is of Divine Right, was published in Toronto; Thomas G. Porter wrote a response in 1878, see next entry, so the date of this Witherow edition is likely 1878 or a bit before and it was published by James Bain & Son with a total of 77 pages of text.
A book by Thomas G. Porter titled, A Reply to "The Apostolic Church, Which is It?," of Professor Thomas Witherow, Professor of Church History in Magill College, Londonderry, was published in Toronto at The Monetary Times Office, 1878, having 108 pages including an appendix.
The 5th edition was read by the author of Presbyterians of the Past in its form as reprinted by Westminster Discount Book Service, Scarsdale, New York, with the title, The Apostolic Church: Which is It?; it is a paperback, pocket-size book with burgundy colored cover and 91 pages. I purchased my copy from Greenville Presbyterian Theological Seminary.
---
Additional titles by Dr. Witherow
Historical Sketch of the Presbyterian Church in Ireland, Belfast: C. Atchison, 1858; reprinted, with introduction, Draperstown: Moyola Books, 1994, 48 pages.
The Sabbath not a Church Holiday: But a Divine Ordinance Under all Dispensations, Belfast: C. Atchison, 1871, 23 pages.
"The Three Creeds," Southern Presbyterian Review 28, no. 2, April 1877, 253-84.
Historical and Literary Memorials of Presbyterianism in Ireland, 1623-1731, London and Belfast: William Mullan and Son, 1879, 363 pages; Second Series, 1880, 356 pages. The two books are collections of biographies and historical information. Included in both titles are excerpts and documents relevant to each person. Both titles are indexed.
Three Prophets of Our Own: A Lecture on Adam Clarke, Alexander Carson, and Henry Cooke, Delivered in Maghera on 3 January 1855, Londonderry: J. Montgomery, 1880, 76 pages.
Scriptural Baptism: Its Mode & Subjects as Opposed to the Views of the Anabaptists, Belfast: n.p., n.d., Edinburgh: A. Elliot, [1881?], 72 pages.
Life of the Rev. A. P. Goudy, D.D., co-author Thomas Croskery, Dublin: Humphrey and Armour, 1887, 182 pages.
Two Diaries of Derry in 1689 Being Richards' Diary of the Fleet, Now First Printed from the Original M. S., and Ash's Journal of the Siege, Reprinted from the Edition of 1792. With Introduction and Notes, Londonderry: W. Galley, 1888.
The Form of the Christian Temple: Being a Treatise on the Constitution of the New Testament Church, Edinburgh: T. & T. Clark, 1889, 484 pages.
Derry and Enniskillen in the Year 1689: The Story of Some Famous Battlefields in Ulster, Belfast: William Mullan, 1873; 2nd ed., Belfast: William Mullan and Son, 1879; 3rd ed., William Mullan & Son, 1885; 4th ed., William Mullan & Son, 1913; each edition is over 400 pages in length.