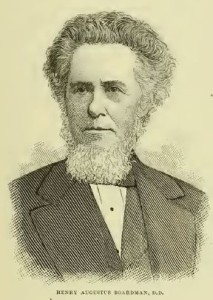 Henry Augustus was born to John and Clarinda (Starbuck) Boardman in the city of Troy on the Hudson River in New York, January 9, 1808. John was a merchant in Troy who had partnered with another man to form Hillhouse and Boardman. The business was successful and the Boardmans prospered, which would prove beneficial when John Boardman died when Henry was only five years old and his business income left a modest fortune for his mother. Though Clarinda Boardman had been raised a Quaker she had joined the Presbyterian Church when she married John. At the time of her death her pastor commented in the local newspaper that her character was full of Christian graces and her religious belief was strongly Calvinistic. Several years after Henry left home, his mother died in March 1846.
As young Henry obtained his early education in local academies he would see the construction of the Erie Canal and possibly celebrate its completion in 1825 before he left for his college studies at Yale. He was a diligent and bright college student graduating the class of 1829 as valedictorian. He immediately began the study of law, but in the spring of 1830, he professed his faith in Christ and united with the Second Presbyterian Church in Troy. Within a year, he entered Princeton Seminary to prepare for the work of pastoral ministry.
Henry Boardman was licensed by the Presbytery of New York on April 17, 1833, and was then ordained and installed by the Third Presbytery of Philadelphia (New School), November 8, 1833, in Tenth Presbyterian Church, Philadelphia, Pennsylvania. Following the Old School's ejection of the New School in 1837, Tenth Church was listed in the Old School General Assembly Minutes for 1838 as a member of its Philadelphia Presbytery. One of Rev. Boardman's early challenges was changing Tenth Church's confessional allegiance from that of the New School to that of the Old. Tenth Church was not only Henry Boardman's first call, it was his only call; he continued to pastor the congregation until presbytery, at the congregation's request, changed his status from pastor to pastor emeritus, May 5, 1876.
Henry Augustus Boardman died at his residence on Spruce Street in Philadelphia, June 15, 1880. The disease that caused his death was diagnosed as "gastritis." Dr. Boardman had been in Atlantic City, for a short visit and while there he complained of some illness, but it was not thought the problem was serious. However, once he returned to Philadelphia his condition steadily declined and he passed away calmly the next morning. Dr. Boardman was buried in Laurel Hill Cemetery, Philadelphia. Eliza had preceded him on August 19, 1874. Eliza and Henry had three sons and two daughters.
The story of Henry Boardman's marriage is a bit curious. He was raised in Troy, New York, attended college in Connecticut, studied for the ministry in New Jersey, and would go on to pastor a church in Philadelphia for the remainder of his life. However, somehow he managed to marry Miss Eliza Beach Jones, who was the daughter of attorney Paul Townsend and Mary Lamboll (Beach) Jones, of Charleston, South Carolina. How did the Northeastern man manage to marry a South Carolina woman? Two years after Henry Boardman entered Princeton, Miss Eliza's brother, Samuel Beach Jones, began his theological studies at the seminary. Whether Samuel orchestrated the meeting of Boardman with his sister, she met him while visiting Samuel in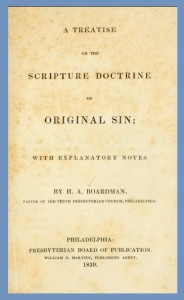 Princeton, or the romance was kindled in some other way is not clear, but Eliza Jones won the heart of Henry Boardman. As with many of the seminary students and alumni, Henry and Eliza were married by Archibald Alexander. Another Charleston connection for Boardman was his classmate Thomas Smyth, who would go on to serve the Second Presbyterian Church of Charleston, and like Boardman, would serve only one pastoral call of many years, 1834-1873.
Henry Boardman and Charles Hodge were great friends. When Dr. Hodge died in l878, the addresses of Dr. Boardman, William Paxton, and Charles A. Aiken were published in Discourses Commemorative of the Life and Work of Charles Hodge, D.D., LL.D. Dr. and Eliza Boardman had shown their love and respect for Dr. Hodge by naming one of their sons, Charles Hodge Boardman, who was born May 28, 1838. C. H. Boardman matured to study medicine at the University of Pennsylvania and moved to St. Paul, Minnesota, where he was a member of the State Board of Medical Examiners, President of the City Board of Water Commissioners, Medical Director of the Northern Pacific Railroad, and Professor of Medical Jurisprudence in the University of Minnesota. Charles Hodge must have been touched not only by the Boardmans naming their son after him, but also because the son was a medical doctor like his own beloved brother, Hugh Lenox Hodge.
Dr. Boardman's more than four decades of pastoral ministry saw many changes. In the greater PCUSA, he went through the split of the denomination in 1837, the Spring Resolutions that divided the Presbyterians along the Mason-Dixon Line in 1861, and the reunion of the Old and New Schools into a single PCUSA in 1869 (less the PCUS congregations). In 1854, he was moderator of the Old School General Assembly. With respect to Princeton Seminary, he was elected in 1835 as a director of the seminary and he continued as one until his death. In 1853, he was elected by the General Assembly to be Professor of Pastoral Theology in Princeton Seminary, but he declined the position to continue his ministry at Tenth Church. Possibly the most rewarding aspect of Dr. Boardman's lengthy ministry would have been baptizing children, leading them to profess their faith in Christ and become communing members, see them grow in the faith, and then unite them in Christian marriage. What is more, he could have seen these important steps in Christian growth not only in the children, but also in their children, and their children's children. Dr. Boardman's forty-three years of pastoral service is the longest call served of all the ministers at Tenth Presbyterian Church.
Barry Waugh
---
Links to Articles on Presbyterians of the Past of Associated Interest
H. A. Boardman's sermon, "This is not your rest," Micah 2:10, for New Year, 1866, can be read via the link followed by clicking HERE
---
Notes–This biography was edited and updated on August 21, 2015. An assortment of standard Presbyterian reference books of the nineteenth century have been used in composing this biography. The chapter on Dr. Boardman in Tenth Presbyterian Church of Philadelphia: 175 Years of Thinking and Acting Biblically, ed. Philip G. Ryken, 2004, was also used. The picture of Tenth Church was copied from the church's site, made black and white, and de-modernized by the author.