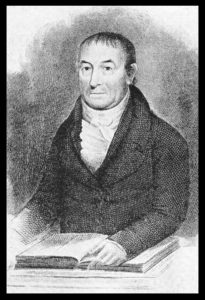 Jonas was born to Hannah (Halstead) and John Coe March 20, 1759 in New Hampstead, New York. He was a grandson of Samuel Coe who emigrated from England about 1712. John participated in the Revolution with Jonas and four of his brothers fighting for independence. Following studies at home and with tutors he entered Queen's College (Rutgers) in New Jersey. During vacations from college Jonas returned home to work on the farm. Sometimes his class attendance was interrupted to fulfill needs at home which required his absence from Queens, but despite the interruptions he graduated with the class of 1789. Believing that he was called to the ministry, Jonas was pleased to receive his theological instruction from John Rodgers of the Collegiate Presbyterian Church in New York City. He was taken under care of the Presbytery of New York October 11, 1790 and the following year was licensed in October to preach.
The town of Troy, New York, was originally two villages—Troy and Lansingburgh, which were separated by about three miles. The distance seems trivial currently but in Coe's day travel was by foot, animal, or carriage, and the terrain could be difficult to maneuver, especially in winter. In the early years a number of residents in both villages wanted to have a church but the group in neither Troy nor Lansingburgh had sufficient funds to support a minister on its own. As was often done in the day, the two villages combined their funds for a single yoked call. Jonas directed worship in each location on alternate Lord's Days. He accepted the call and on October 11, 1792, was dismissed from his presbytery for reception by the Presbytery of Albany on February 20, 1793. He stood examination before the presbyters for two days before he was accepted for ordination and installation June 25. During the first years of ministry he resided in Lansingburgh but then moved the family to Troy where he lived the rest of his life. At the time of his settlement over these congregations almost the whole Northern part of the State of New York was wilderness. As settlements were established at various locations, he often visited them as a missionary helping them to establish churches and have worship services. During one of these excursions, he went as far north as Plattsburg (about 150 miles due north of Troy). By 1803 the Troy congregation had grown enough both in membership and finances that the yoked ministry between Troy and Lansingburgh ended. Jonas Coe had the single congregation in Troy to shepherd. As was common in the early years of the United States many churches experienced revivals. Between 1815 and 1818 two-hundred-sixty members were added to the Troy Church during a season of revivals.
In 1817 Coe was selected a commissioner representing his presbytery in the General Assembly that convened in First Church, Philadelphia. He was elected moderator succeeding his friend, Samuel Blatchford, who had become pastor of the Lansingburgh Presbyterian Church. Some of the issues addressed in 1817 included whether an individual who left a church and united with a congregation of another denomination should be subject to discipline. This was assigned to a committee, but unfortunately its report and the Assembly's decision was not located in the published minutes. The Presbyterians continued interest in providing funding for "poor and pious youth" so they could enter the ministry resulted in reports from the presbyteries which had been requested by the previous Assembly. The reports were assigned to a committee for disposition. The committee reported many presbyteries had programs and Moderator Coe appointed a committee to devise "a plan on this subject." Alteration of some presbytery bounds were considered with one change being establishment of the Synod of Tennessee from the Synod of Kentucky. Rev. George Bourne appealed the decision of the Presbytery of Lexington (Virginia) deposing him from the ministry. The assembly agreed that the penalty had been too severe and instructed "the Presbytery commence the trial anew." An attempt to allow booksellers to print the Confession of Faith on their own without requiring anything for the copyright was thwarted as "inexpedient" because the trustees of the Assembly already had an edition in process. The copyright defending decision did not matter because publishers went ahead and published pirated editions. Later in the history of the Confession it became necessary to compile a new edition via text-critical analysis of previous editions. Imagine a world in which the Confession of Faith had sufficient promise of profit for printers to pirate its text. Hard to believe, isn't it? There was considerable discussion about review of the Synod of Philadelphia minutes with respect to a pastoral letter concerned with Hopkinsianism and revivals. With respect to missions, the committee reported regarding the Presbyterians desire to cooperate with the Reformed Dutch, Associate Reformed, and other churches "holding to the same creed" to form a society for foreign missions. The report and its constitution for cooperative work was adopted. Finally, an appeal came from the Presbytery of West Tennessee.
Can a man, consistently with the rule of moral duty contained in the word of God, marry his brother's widow, or does its impropriety arise from positive laws contained in the Bible?
The question was given to a committee to bring a report to the 1818 meeting. The question of near-kin marriages come up repeatedly for Presbyterians until the 1880's when a sentence in the Westminster Confession of Faith, 24:4, was removed. Jonas Coe was moderator of a meeting that extended for two weeks from May 15 to 28. The following year he delivered his moderator's sermon from the last clause of Romans 11:13, "I magnify my office."
It was Dr. Coe's hope that he might not outlive his usefulness—nothing distressed him more than the idea of becoming a useless clergyman and a burden to his congregation, family, and friends. God granted him this desire. He was laid up from ministry about six weeks before he died July 21, 1822 at the age of sixty-three. His Funeral Sermon was preached by his friend Samuel Blatchford. A sign of his reputation among ministerial colleagues was the twenty-five clergymen in attendance of his funeral.
Dr. Coe's first wife was Eliza Hunting Miller whom he married September 27, 1791. She was born in Duchess County, New York, April 10, 1778, and died on April 19, 1805. On May 14, 1810, he married Abigail Wallace who was at the time living in Lansingburgh. She survived Jonas and at the time of Sprague's biography in 1857 she was in her eighty-sixth year. Three children were born to Jonas and Eliza, but he and Abigail had no children together. The eldest son, Edward, graduated Union College in 1815, then studied Law, before establishing a practice in Troy. He died February 12, 1828. John was born in January 1800, graduated Union College in 1817, and then became a student in Princeton Theological Seminary that fall. He was licensed to preach by the Presbytery of Troy in October 1820. After working for several years in missions, he was ordained and installed pastor of the church in Whitehall, New York. John died just a year after his father.
Jonas Coe received an honorary Master of Arts from the College of New Jersey in 1792, and another one from Union College in 1797. The College of William and Mary in Virginia and Middlebury College in Vermont each honored him with a Doctor of Divinity in 1815.
His publications include A Sermon, Delivered before the Military Officers, Apollo Lodge, and a Large and Respectable Number of the Citizens of Troy, January 12th, 1800. In Consequence of the Death of Lieutenant-General George Washington, by Jonas Coe, A.M., Minister of the Presbyterian Church in Troy. Troy: Printed at the Budget Office, by R. Moffitt & Co., 1800.
A Sermon Delivered at the Installation of the Rev. Samuel Tomb to the Pastoral Charge of the Presbyterian Church in Salem [Massachusetts], February 19th, 1806, Salem: Printed by Dodd and Rumsey, 1806.
Barry Waugh
---
Notes. Catalogue of the Officers and Students of Middlebury College in Middlebury Vermont, and of Others Who have Received Degrees,, 1800-1900, compiled by Walter E. Howard and Charles E. Prentiss, 1901; William B. Sprague, Annals, vol. 3; Princeton University General Catalogue, 1746-1906, 1908, V. L. Collins, editor; Proceedings of the Centennial Anniversary of the First Presbyterian Church, Troy, N.Y., December 30 and 31, 1891, Troy: Troy Times Printing House, 1892. The header image is from the New York Public Library Free-Use Digital Collection. If you are interested in reading more about the history of near-kin marriages in the Presbyterian Church, see the author of this site's dissertation available on the Log College Presss site.