In the history of Presbyterianism in the United States the surname Rice is a common one. For example, influential in Kentucky were David Rice (1733-1816) known as "Father Rice" for founding the Presbyterian Church in the state, and there was also the polemicist, minister, and educator Nathan Lewis Rice (1807-1877). In Virginia, key figures included the educator, publisher, and founding minister of First Presbyterian Church in Richmond, John Holt Rice (1777-1831), and his younger brother Benjamin Holt Rice.
Benjamin, was born near New London, Virginia, on November 29, 1782, to Benjamin and Catherine Holt Rice. His father was a lawyer, county clerk, and ruling elder in the Peak and Pisgah congregations, which were pastored by his brother David who would later become "Father Rice" in Kentucky. When Benjamin was about seven years old his mother died. His early education was limited because by the time he was fifteen he had received only six months of formal schooling in a country school. He began work assisting his father in the office of the county clerk and continued for about five years. During this time he professed his faith in Christ during the ministry of Rev. James Turner.
In the summer of 1802, Benjamin's elder brother, John Holt Rice, who was at the time a tutor in Hampden-Sydney College, returned home for a visit. John influenced Benjamin to attend Hampden-Sydney to be tutored in Latin. At the time, the president of the college was Archibald Alexander who would go on to minister in Philadelphia and then become the founding professor of Princeton Seminary in 1812. Alexander exercised a great influence on Benjamin and they continued to be not only friends their entire lives, but also kin by affinity because Benjamin married Alexander's youngest sister, Martha. An indication of their friendship and trust is provided in the following excerpt from a letter Rice sent to Alexander in 1810.
And here let me make a request of you, which I have often thought of making before. I do it seriously, and in the spirit of a friendship which I am assured will last while life lasts. If it should please the All-Wise Disposer of events to remove you from your family before they are educated and settled in the world, and I should be spared, it is my most earnest wish that you would leave to me the one of your children to whom you may judge that it would be most advantageous.
It was not uncommon for family members and close friends to arrange for the welfare of their children in case of death, but no specific reason is given for Benjamin's request. It may have just been the desire of one friend to help another in a time of need. The request was not fulfilled, fortunately, because Alexander's children were adults well before he died in 1851. Benjamin and Martha had at least two daughters with at least one of them married. The one daughter was named Anne and she married Ezekiel Forman who was a minister near Versailles, Kentucky. Anne would pass away January 11, 1844.
In the fall of 1804, John H. Rice became the pastor of Cub Creek Church in Charlotte County and Benjamin moved with him to the new location. John operated a school with about twenty students and Benjamin assisted with the classes while he continued his own studies. During these years he suffered from very poor health and struggled to complete his teaching and personal studies. After about six years he moved to North Carolina to teach school for a time, first in New Bern, and then in Raleigh in an academy operated by the pastor of First Presbyterian Church, William McPheeters.
Once Benjamin H. Rice believed he was called to the ministry, he was examined and licensed to preach by the Presbytery of Orange during its meeting in the Buffalo Church in Guilford County, North Carolina, on September 28, 1810. He continued his teaching in Raleigh until the summer of 1811 when he was appointed by the General Assembly of the Presbyterian Church in the United States of America (PCUSA) to missionary work in the coastal counties of North Carolina. Some of the cities he visited and ministered to included New Bern, Washington, Wilmington, and Edenton. Having proven his ministerial gifts satisfactorily, the presbytery ordained him in the Grove Church on April 3, 1812 and then post-haste appointed him a commissioner to the meeting of the General Assembly in May. Beginning in the summer of the same year he began mission work in Petersburg with the hope of starting a church. He made several acquaintances in the city and by the end of the year he was leading worship weekly in an unused store house.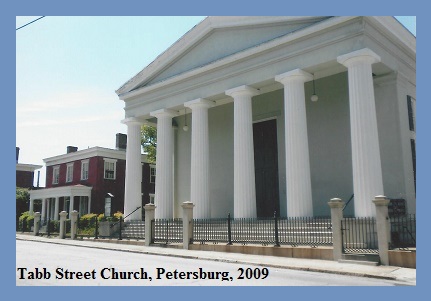 Pastor Benjamin H. Rice had an up-hill ministry because there were known to be only two Presbyterians among the 8,000 residents of Petersburg. The city was a rough and tumble place with brawls, drunkenness, and a general indifference towards anything Christian. But Rev. Rice continued to minister resulting in his seeing God calling many to himself. By the close of the year 1813, the church was organized with about twenty members as the Tabb Street Church. During the earlier part of his pastorate in Petersburg, there were many that opposed his ministry and made considerable efforts to drive him away and shut down the church. However, the infant church saw the Lord increase the flock through Rice's patient ministry. He continued at Petersburg for seventeen years and by the time he left his congregation included three-hundred-nineteen members.
In May 1829, Benjamin Rice attended the General Assembly in Philadelphia as a commissioner of Hanover Presbytery and was elected moderator. His brother John Holt Rice had been the assembly moderator ten years earlier. When Benjamin Rice delivered his retiring moderator's sermon in 1830, the Scripture text was John 18: 36, 37.
That fall, Pastor Rice received a call to the Pearl Street Church in the city of New York. The Petersburg congregation reluctantly concurred with his desire to resign. He was installed pastor of the Pearl Street Church on December 3, 1829. After remaining a little less than three years due to the different challenges of pastoring in New York as compared to his home state of Virginia, he was invited in July 1832 to become Associate Secretary of the American Home Missionary Society. But this work lasted only about a year. He was honored with the Doctor of Divinity by the College of New Jersey, Princeton, in 1832.
In the summer of 1833, Dr. Rice received a call to become the pastor of First Presbyterian Church in Princeton. Having accepted this call, he was installed by the Presbytery of New Brunswick in August. The installation sermon was delivered by Rev. S. C. Henry, Samuel Miller of the seminary gave the charge to the pastor, and Rev. James Carnahan presented the charge to the congregation.
The year 1844 was particularly difficult for him personally because of the sudden death of a daughter and then a handful of weeks later Martha passed away on March 6, 1844. During the nearly fourteen years of his pastoral labors to the Princeton congregation, 271 members were added by examination.
As he approached his sixty-fifth birthday, Rice's continuing health problems weakened his condition sufficiently that he presented his resignation to the Princeton congregation on April 26, 1847. The church concurred with his desire to resign and the call was dissolved by presbytery a few days later. He left Princeton to retire to Virginia. The College Church at Hampden-Sydney did not have a minister, so it sought to call Dr. Rice. Initially, he agreed to a six-month term of service as supply pastor, but then decided to accept the call and was installed.
During worship on February 17, 1856, Dr. Rice delivered an extemporaneous sermon on Exodus 14: 15, "Speak to the children of Israel, that they go forward." The service was poorly attended because the weather was terrible. As he preached it became clear that something was wrong with Pastor Rice. His voice weakened becoming barely audible, and the sermon was making little sense as he wandered from one concept to the next. He paused at one point to drink some water and said that his tongue was numb. The Rev. Lewis W. Green, D.D., and Dr. Rice's son, Archibald Alexander Rice, M.D., went to assist him and help him from the church to his home. He passed away on Sunday morning February 24, 1856. The next day, Rev. Benjamin Holt Rice, D.D., was buried in what is currently known as the Union Presbyterian Cemetery at Hampden-Sydney College. His brother John was buried nearby and in 1867 John's wife, Anne Smith Morton Rice, would join them. Martha Rice had been buried in the Princeton Cemetery when she passed away in 1844.
Dr. Rice served on the Princeton Seminary Board of Directors, 1833-1848, and he was a board member of Union Seminary, 1827-1830. He and his brother John authored, Memoir of James Brainerd Taylor, 1833. The pamphlet by him titled, A Sermon, Preached in the Presbyterian Church, in the City of Richmond, May 1820, for the Benefit of the Young Men's Missionary Society was published in 1820. 
Barry Waugh
---
Notes A portrait of Benjamin H. Rice could not be located. It seems he ministered in the shadow of big-brother John Holt; E.T. Thompson's Presbyterians in the South does not list him in the index. In the sources consulted the term "Dr. Rice" can become confusing because due to the number of doctors surnamed Rice, an errant identification is easily made. The point is, be sure your Rice of interest is not confused with another one in the Rice bowl. William McPheeters is listed in History of First Presbyterian Church, Raleigh, North Carolina, 1816-1991, as the pastor of the church 1816-1830, but on page 12, he is said to have been hired to the Raleigh Academy as its principal and Pastor of the City in 1810. The Bortz Library of the Hampden-Sydney College website has a library guide "Union Presbyterian Seminary Cemetery at Hampden-Sydney College," which includes a list of individuals interred and other information. Books include The Life of Archibald Alexander, 1856, by J.W. Alexander, pages 441-42, regarding Benjamin H. Rice's desire to become guardian of one of Alexander's children; The First Presbyterian Church of Princeton: Two Centuries of History, ed. by A.S. Link, 1967; "Biographical Sketch of Benjamin Holt Rice, D.D.," from The Presbyterian, 1856, pages 551-57, kindly provided by Wayne Sparkman, PCA Historical Center; Historical Discourse, First Presbyterian Church, Princeton N.J., 1866, by Horace G. Hinsdale; Nevin's Presbyterian Encyclopedia; with regard to John Holt Rice and David Rice, D.G. Hart and Mark A. Noll, Dictionary of the Presbyterian & Reformed Tradition in America, 1999; and The Faith of Christ's Ministers an Example for His People, A Discourse Commemorative of Benjamin Holt Rice, D.D., by William Edward Schenck, 1856. The picture of Tabb Street Church is the author's and the brick building to the left was an office at the time of the photograph, but it appears to have been constructed originally to be the manse.