In nineteenth-century Macon, Georgia, one of the most respected citizens was John Jones Gresham (1812-1891). He was at various points in his life an attorney, a judge, the mayor of Macon, a state senator, an investor in the Georgia textile industry, a farmer, a member of the county board of education, and for over forty years an elder in the First Presbyterian Church. John married Mary Edgeworth (Baxter) of Athens. In 1842 they built the Greek revival style home in which they raised their children and survives today as a bed and breakfast and a fine example of antebellum architecture in the Macon historic district.
Mary and John Jones Gresham had five children. The three that survived beyond the age of two were LeRoy Wiley, who died at the age of seventeen; Mary Jones, who was known as "Minnie" and would live in Baltimore with her husband, Arthur W. Machen, where they would raise their son J. Gresham Machen and his two brothers; and Thomas Baxter Gresham, who married Tallulah "Lula" Billups. LeRoy, or "Loy" as he was known to friends and family, was born to Thomas and Lula on September 21, 1871 in Madison, Georgia, which is about sixty miles north of Macon. Later in life, Thomas moved the family to Baltimore where they lived within a mile of the Machens which facilitated Loy and J. G. Machen, despite an age difference of ten years, becoming more like brothers than cousins.
LeRoy Gresham attended Lawrenceville Academy in New Jersey before receiving both his B.A. and the M.A. from Princeton University. He went on to graduate studies for one year at Johns Hopkins University followed by course work at the University of Maryland where he earned the LL.B. Following in his father's footsteps, LeRoy practiced law in Baltimore beginning in 1896, but then after half-a-dozen years of practice he realized God was calling him to the ministry. He attended Union Theological Seminary, Virginia, for his theological studies earning the Bachelor of Divinity in 1906. He was licensed that May by Potomac Presbytery of the P.C.U.S. followed with ordination by Orange Presbytery in November of the same year. Rev. Gresham's first call was for about three years to a church in Chapel Hill, North Carolina. His next call was to be his last because he served the church in Salem, Virginia, beginning in 1909 and continued there until his retirement in 1946, after a ministry of thirty-seven years. LeRoy was honored with the D.D. by two institutions in Virginia—King College in Bristol, 1914, and Washington and Lee University in Lexington, 1924.
Loy married Jessie Rhett of Baltimore in 1903. One of their two sons, Francis, who had moved to Minneapolis, died at the age of twenty-nine in a drowning accident in 1935. Another son, Thomas B. Gresham, was named for Loy's father. Loy's mother had died when he was but eight years old, on her thirty-first birthday, September 29, 1879; his father died in Baltimore in 1933.
At one point in LeRoy Gresham's ministry at Salem, J. Gresham Machen knew of a soon-to-be available church in Norfolk, so he mentioned Loy as a possible candidate to the pastor who was leaving the church. Machen was writing to his former student Stuart "Bill" Hutchison, who was leaving the First Church (P.C.U.S.) to accept the call to the East Liberties Church, Pittsburgh, Pennsylvania (P.C.U.S.A.). Dr. Machen believed that the Norfolk pulpit would be a good fit for Loy, so he presented his case regarding his cousin's qualifications to Bill.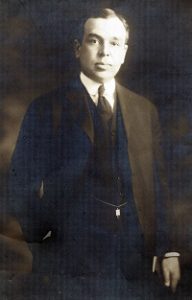 I have come frequently into contact with his work at Salem, and every contact with it has been an inspiration and a benediction. Though on a smaller scale, it is more like your work at Norfolk than almost anything else I have seen. That is to say, it is the work of a genuine minister of the gospel, who is in full possession of the necessary intellectual and other gifts. I do not believe that a more absolutely unselfish, consecrated man ever entered the ministry than my cousin. To win one soul he will pour forth unstintedly all the treasures of mind and heart that God has given him. And that kind of painstaking work has produced a congregation which it is a joy to see. His position in the whole community, moreover, is a commanding one.…
Why then has he remained so long in a place which … is after all a small town? For two reasons:
First, he absolutely refuses to do anything like candidating. He takes the ground that his great duty is to his own congregation, and that, especially since his work there is so highly blessed of God, he has absolutely no time to spend upon any attempt to seek a larger field.
In the second place, the impression has gotten abroad that he is absolutely determined not to leave Salem. That impression is false. It is true, he has rejected opportunities to go elsewhere, but there were good and special reasons in every case.
Machen went on to point out that the Salem congregation understood "fully that Loy is far too big a man for his present church. But they think that for some reason he has absolutely determined to stay with them always." However, at least in Machen's thinking, there was a possibility of Loy leaving Salem for another call. He commented, "I am sure that Loy will not decline the real call when it comes" (underlining in the original). Dr. Machen taught New Testament in a theological seminary and was often sought for counsel regarding calling the right candidate to the right pulpit, but it appears his exuberance and love for his close-as- a-brother cousin may have gotten the best of him with respect to understanding Loy's own sense of call and devotion to the Salem congregation. It would appear that Loy believed the "real call" was the one in which he was already ministering, and the efforts of pulpit committees, and even of his own cousin, were simply distractions from his sheep as he continued to shepherd his flock for nearly four decades.
BY BARRY WAUGH
---
Sources–For an article about the friendship between LeRoy Gresham and J. Gresham Machen see, "J. Gresham Machen and LeRoy Gresham: Cousins, Confidants, and Churchmen," in The Confessional Presbyterian 10 (2014), pages 3-12. The author is grateful to Sandy Finlayson and Karla Grafton of the Westminster Theological Seminary Library for providing a copy of Dr. Machen's letter to Bill Hutchison dated April 29, 1921, for the information about the death of Francis Gresham from a newspaper clipping included in a letter from Loy to Arthur dated April 15, 1935, and the use of the picture of J. G Machen. Information regarding John Jones Gresham was found in Testimonials to the Life and Character of John Jones Gresham, 1892. Some of the information in this article came from Gresham family grave marker inscriptions.