Conway Phelps was born the eleventh of thirteen children on February 12, 1809 to Enoch and Mary Oliver Wing near Marietta, Ohio. The newborn boy was a seventh generation descendant of John Wing who had settled in Massachusetts Bay in 1632. Other Wing ancestors were among the original settlers and developers of Sandwich on Cape Cod. Enoch and Mary had moved in 1796 to Ohio from Conway, Massachusetts. When Mary died in 1812, Enoch moved toddler Conway and his siblings to Phelps, Ontario County, New York, where he found himself with a quiver full of arrows and no wife for him to love nor nurture his children. However, he met up with an old acquaintance from his years in Conway named Beulah Stearns, who in the intervening years had married and then become the widow of a man named Newhall. Enoch, unlike his biblical name sake, had to submit to Hebrews 9:27 with his death on March 26, 1834. During his life he had been a farmer, a justice of the peace, and an elder who often attended meetings of the Presbytery and Synod of Geneva. Beulah enjoyed a few more years of life until she passed away in 1840. Beulah and Enoch had only one child together, Harriet Skinner, who was the thirteenth child in the Wing household, but she unfortunately died at about the age of three.
Dr. Wing made a profession of his faith in Christ at the age of thirteen and was received into the communion of the church in Phelps where his father was an elder. He prepared for college at Geneva Academy and then entered the sophomore class of Hamilton College, from which he graduated with honors in 1828 at the age of nineteen. Hamilton was first established as the Hamilton-Oneida Academy in 1793 and then became a college in 1812. Having chosen the ministry for his life work, Conway attended Auburn Theological Seminary completing his studies in 1831, was licensed by the Presbytery of Geneva, and then ordained on September 27, 1832 to serve in Sodus, New York. During his first pastorate on January 10, 1833, he and Prudence Maria Young were married. When the Presbyterian Church in the United States of America (PCUSA) divided into the Old and New Schools in 1837, Rev. Wing and his church were in the New School. After a six year ministry in Sodus, Conway and Prudence moved to Ogden, New York, where he became the minister of the Congregational Church until another move took him to Monroe, Michigan, for a brief ministry that ended in 1841. Due to the severity of the Michigan winters his health suffered greatly resulting in his seeking a call in a more temperate climate after a period of convalescence in Santa Cruz in the West Indies. The Volunteer State provided his next ministry opportunity when he was transferred to the New School Synod of West Tennessee where he served briefly in Columbia, Tennessee, and then for about five years in Huntsville, Alabama, ending in 1848. Due to the increasing tensions between North and South and Wing's abolitionist commitment, despite the Huntsville congregation encouraging him to stay with it, he sought a church north of the Mason-Dixon Line.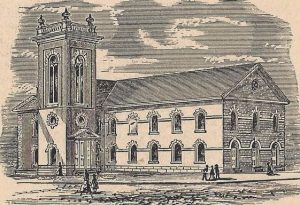 While travelling in Pennsylvania several years earlier, Rev. Wing had spent two weeks in Carlisle, Pennsylvania, preaching or leading a revival in the First Presbyterian Church. The Carlisle congregation's shepherd, Ellis J. Newlin, left the church in June 1847 resulting in the need for a new pastor. Early in the efforts to locate a minister the Carlisle church remembered Rev. Wing's preaching ability, so they asked him to candidate and preach for them once again. His call was approved by the congregants unanimously and he was to be paid a salary of one-thousand dollars per year. Rev. C. P. Wing accepted the call beginning his ministry in April 1848 but was not installed by the New School Presbytery of Harrisburg until October 15. He continued serving the Carlisle membership until October 23, 1875, when his pastoral relation was dissolved allowing him to retire and become pastor emeritus. The Old and New Schools had reunited in 1869, and at the time of his retirement he was a member of Carlisle Presbytery. Dr. Wing remained in Carlisle until his death on May 7, 1889. Prudence had died about a year earlier. During the twenty-seven years of C. P. Wing's ministry in Carlisle there were 320 individuals admitted to communicant membership by profession of faith with another 97 added by certificate of transfer, and he had preached over 4,000 sermons, conducted 496 funerals, baptized 320, and united 204 couples in marriage.
Dr. Wing was not only active in work for and with the congregants of First Church, Carlisle, but he was also busy in New School Presbyterianism and interdenominational works. He was particularly concerned for educational institutions and associations, was a vocal proponent of the temperance cause, and along with many other Victorian Christians he was jealous for Sabbath observance. Rev. Wing was often appointed a fraternal delegate by the New School General Assembly to meetings that included the Cumberland Presbyterian Church General Assembly, the Synod of the German Reformed Church in the United States, and the General Association of Connecticut (Congregational). The Cumberland Church had been founded in response to what it believed was the requirement of too much education for ordination to the Presbyterian ministry, because its members were interested in a highly limited commitment to the Westminster Standards and its particularly Calvinistic soteriology (doctrine of salvation), and it emphasized special revival meetings by itinerant and interdenominational revivalists, such as Wing himself who often led revivals. When the Old and New Schools reunited in 1869, Dr. Wing had been an active proponent of the union and he was a member of the Joint Committee of Reconstruction which redefined the PCUSA presbyteries and synods.
C. P. Wing, in addition to his work as a minister, was proficient in Hebrew, Greek, and Latin, capable with modern French, and his German was sufficient to translate some works into English. In 1856, with Professor Charles E. Blumenthal of Dickinson College, he translated from German, Hase's Manual of Ecclesiastical History, and then in 1868, he translated and edited Christian F. Kling's The Second Epistle of Paul to the Corinthians. His recognized ability as a speaker led to his being asked on several occasions to deliver lectures. In 1861, he returned to his divinity alma mater to deliver the annual address to the alumni meeting of Auburn Theological Seminary. Many of his special discourses along with several Thanksgiving sermons were published. He contributed a number of articles to journals distributed by both Presbyterian and Methodist interests and sent a variety of articles to the New York Evangelist and other religious newspapers. He also contributed several articles to McClintock and Strong's Cyclopedia of Biblical, Theological, and Ecclesiastical Literature. In 1877, he published A History of the First Presbyterian Church of Carlisle and the next year his The History of Cumberland County, Pennsylvania was released. Interest in his personal ancestry led to the publication of his copiously researched genealogical book titled, A Historical and Genealogical Register of John Wing, of Sandwich, Massachusetts, and His Descendants, 1662-1881. He was given the Doctor of Divinity by the Board of Trustees of Dickinson College in 1857.
Barry Waugh
---
If you would like to know more about the New School and Old School, read the brief introduction to the article titled, "Synod of Pennsylvania Minutes, New School, 1865." This article includes a link for a PDF download of the pamphlet of minutes.
A copy of Conway P. Wing's discourse, "A Ministry of Fifty Years," delivered February 20, 1881, in Carlisle is available in PDF on this site, Download Now!
---
Notes—The use of "quiver full of arrows" is taken from Psalm 127:3-5, which reads, "Behold, children are a heritage from the Lord, the fruit of the womb a reward. Like arrows in the hand of a warrior are the children of one's youth. Blessed is the man who fills his quiver with them! He shall not be put to shame when he speaks with his enemies in the gate." Regarding the name "Enoch," in Genesis 5:23, 24, the King James Version, which would be the version commonly used in Wing's era, reads, "And all the days of Enoch were three hundred sixty and five years. And Enoch walked with God, and he was not, for God took him." Enoch did not die but was instead taken to be with the Lord. Hebrews 9:27-28 reads, "And as it is appointed unto men once to die, but after this the judgment, so Christ was once offered to bear the sins of many; and unto them that look for him shall he appear the second time without sin unto salvation."
Sources—The biographical catalog of Auburn Theological Seminary, Nevin's Men of Mark of the Cumberland Valley, the General Assembly Minutes of the New School PCUSA, Wing's genealogical book and his history of the First Presbyterian Church of Carlisle, and volume 2 of A History of the Presbytery of Carlisle were all used in this biography. The images also came from these sources and Nevin's Presbyterian Encyclopedia.