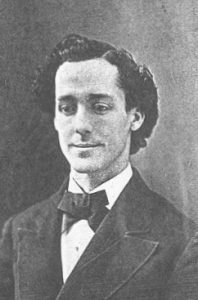 Seminary education in the nineteenth century was challenging especially as developed and standardized by the Presbyterian Church's first seminary established in Princeton, New Jersey, in 1812. The curriculum included the biblical languages of Greek and Hebrew, English Bible, textual analysis of the Bible and its interpretation, Bible history, didactic (i.e. systematic) theology, church government, pastoral care, homiletics (preaching), and church history. Added to the Greek and Hebrew languages was prerequisite Latin which was especially important at Princeton because the theology curriculum used the Latin works of Francis Turretin. Added to English, Latin, Greek, and Hebrew, an ambitious student might include German so he could defend the doctrine of Scripture against the books published by German higher-critical scholars. It was quite a program of study and may make current seminary students feel benighted. When W. H. Fentress entered Princeton Seminary he could add another challenge, a tremendous hill to climb which influenced every subject he was to study, he was blind.
William Henry, son of Bennett and Agnes Fentress, was born in Baltimore, Maryland, March 25, 1851. Agnes was from Scotland and moved with her parents, George and Margaret Clasey, to the United States in 1818. Agnes's parents were founding members of Light-Street Presbyterian Church in Baltimore. As a child, William's mother prayed for him to become a minister, but her hope for his future seemed lost when at the age of six he lost his sight. However, despite his considerable handicap, William pursued formal education beginning at the age of nine in the Maryland Institute for Instruction of the Blind. He continued there as a state beneficiary beginning May 7, 1860, until he completed his program on June 1, 1868. Next, he began college studies through tutoring provided by Professor Wagner of Baltimore and then continued his education formally at Richmond College in Virginia where he graduated in 1870.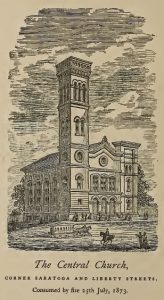 William returned to Baltimore to reside at 219 Montgomery Street which was about a twenty minute walk from his church, Central Presbyterian, which was located at the corner of Saratoga and Liberty streets. The church had been organized under the ministry of Stuart Robinson in 1853 but at the time of William's membership the pastor was Joseph T. Smith. He professed faith in Christ at the age of twenty one. His mother's prayers combined with his own sense of call led him to continue studying in preparation for the ministry. In a letter to Dr. Samuel Gridley Howe of the Perkins School for the Blind in Boston, Massachusetts, where Helen Keller would study, he asked where "Latin Books in raised print" including dictionaries and grammars could be purchased and "the respective prices of the same." An early form of text for the blind used the full form of each letter raised above the paper surface for touch reading. For those who remember the antique device known as a typewriter, the letters on the paper would have looked like the letters projecting from the individual character hammers actuated by typewriter keys. So, his college studies either did not require Latin or he wanted to pursue further studies before entering the Latin-heavy program at Princeton.
William Fentress travelled to Princeton Seminary to enter its three-year divinity program in 1873. He learned his lessons almost wholly through the use of readers. In an alumni information form completed shortly before his death, William commented regarding how he learned his lessons.
I pursued … collegiate and theological studies almost altogether by means of readers. My classmates at Princeton Seminary were very thoughtful and kind in the number of their many attentions to me. I have also a very grateful remembrance of all the professors.
Student colleagues may have organized a rotation so that through their many eyes each reader would have a lighter load but all could participate in helping their brother in Christ in need. Included among his seminary class colleagues who may have read for him were future Princeton professors George T. Purves and B. B. Warfield. William mentioned the kindness of his Princeton professors, but accompanying their graciousness were difficult decisions as they adjusted the curriculum for him while maintaining fairness to those that were not so challenged. Also, the compassionate assistance given by his unnamed classmates showed their concern to help so William could serve others in ministry despite his lack of vision. 
All aspects of his divinity training would have been a struggle, but the languages must have offered particular challenges. When Louis Braille (1809-1852), at the age of sixteen, was developing his method for translating written text into codes of raised dots in paper for tactile reading, he created a dot pattern using one to six dots for each character in a pattern arranged like the dots on gaming dice. Braille and other raised letter formats for the blind were available in Fentress's day, but, for example, the first Hebrew Bible would not be available in Braille until well into the twentieth century. William would have had to learn the languages by sound, phonetically. Those who have studied foreign languages—especially Hebrew and Greek—need only close their eyes and remember the challenges of learning with both visual and auditory input to get a sense of how difficult language studies were for William Fentress.
When William graduated Princeton in 1876, he had already been licensed by the Presbytery of Baltimore, April 11. According to his obituary by David J. Beale in The Baltimore Presbyterian, September 30, 1880, he had been "licensed to preach, after a full and complete examination on all the branches required, not withstanding all his disadvantages; this excites our wonder and admiration." That is, with the challenges overcome studying without vision, William had not resorted to seeking special concessions from the seminary. For the remainder of the year he supplied a church designated as "Anderson" in the Presbytery of Baltimore. In 1878 he supplied the Presbyterian Church in Stewartstown, Pennsylvania, and for three months of the same year he filled the pulpit for Rev. Johnston McGaughey of the Centre Presbyterian Church in nearby New Park. The obituary for Fentress in the seminary's Necrological Reports commented that he was never ordained. However, his book, Love Truths from the Bible, 1879, gives his name on the title page as "Rev. W. H. Fentress," and his entries in Wood's Baltimore City Directory, 1878-1880, read, "Rev. W. H. Fentress, 141 S. Sharp." The sources do not add up, but the arithmetic of historical study does not always provide a balanced equation. For a man to be ordained he had to have a call to a church, to teach, or to be an evangelist or missionary. In William's case his handicap may have made obtaining a call difficult because congregations may have been reticent to call him as they considered the difficulties of having a minister who could not see. However, William had many opportunities to preach in churches in Baltimore and the surrounding area as an occasional supply for vacant pulpits and ministers on vacation.
William Fentress had not enjoyed good health for much of his life and his physical strength was limited. For the last few months of his life he suffered from "an insidious consumption," which may have been tuberculosis or a disease with similar symptoms. He died September 4, 1880, at the age of twenty nine. Not only had he published the book of sermons mentioned previously, but he also produced a raised letter (i.e. Braille or similar) book of sermons for distribution to the blind schools of the country. He was never married and he was survived by his father, brother, and sisters, but his mother had died not long after he was licensed. Returning to the obituary by David Beale, he said of William that he…
was a young man of remarkable pluck and faith, that his intellect was unusually bright and vigorous, that he was a diligent and faithful student, and that he was a light in the world to those he could not see in the flesh.
BARRY WAUGH
---
Sources—The full title of the series of Princeton alumni obituary books is, Necrological Reports and Annual Proceedings of the Alumni Association of Princeton Theological Seminary, which are available in six volumes covering the years 1875-1932. The obituary in The Baltimore Presbyterian was signed "D. J. B." and the identity of the initials was established from a copy of a letter in the Fentress file at Princeton Seminary. R. Lorenzo Clark's, History of Centre Presbyterian Church, New Park Pa., 1780-1903, Lancaster, 1903, page 34, provided the information regarding Fentress's service in that church. Thank you to Ken Henke, Curator of Special Collections and Archivist, Princeton Seminary, for providing copies of the portrait of William Fentress, The Baltimore Presbyterian obituary, and other ephemera. The book, The Presbyterians of Baltimore; Their Churches and Historic Graveyards, by J. E. P. Boulden, published in Baltimore by W. K. Boyle & Son, 1875, was a helpful resource. The letter from Fentress to Howe was located in the digital scrapbook collection on the Perkins School for the Blind website, http://www.perkins.org/, on the page titled "Index to Incoming Perkins Correspondence, Volume 18, 1870-1871."
Notes—For one account of the story of Hebrew Braille read the PDF article by Harry J. Brevis at, http://americanjewisharchives.org/publications/journal/PDF/1969_21_02_00_bevis.pdf. Also, for the account of another blind seminary student's experience with biblical languages, see, James C. Walker, "Can a Blind Man Learn Hebrew?," The Union Seminary Magazine 19:4 (April-May 1908) 273-277.