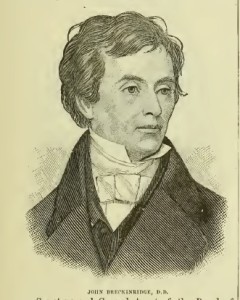 Dr. Samuel Miller's eldest daughter, Margaret, made the acquaintance of John Breckinridge during his student years in the village of Princeton and they were married in January 1823. They enjoyed a happy marriage and were blessed with six children, three of which grew to maturity. John's marriage to the daughter of a Princeton educator was not unique for Breckinridges because John's older brother, Joseph Cabell, married the daughter of Princeton College's president, Samuel Stanhope Smith. John and Joseph's brother, Robert Jefferson, chose another route to marriage when he married his cousin.
John Breckinridge was born at Cabell's Dale, near Lexington, Kentucky, July 4, 1797. His father was Attorney General of the United States John Breckinridge who served during the presidency of Thomas Jefferson. His mother, Mary Cabell, was originally from Virginia. As a boy nine years old, John's father died. Coming from a wealthy family, he enjoyed the best education available in Kentucky as he prepared to enter Princeton College. It was during his studies at Nassau Hall that he, like Charles Hodge, was converted during the revivals of 1815, which led to his uniting with the Presbyterian Church. Breckinridge, Hodge, and J. W. Alexander were close friends that were all gifted intellectually and when the threesome met for conversation it must have been interesting to be the proverbial "fly on the wall." John graduated with honors in 1818 and continued to have contact with the college as a tutor. At the time, his family members were not Christians, so when he resolved to pursue theological education for the ministry, his relatives were against it because they had planned for him to follow family tradition and be a lawyer like his father. However, John pursued his call at Princeton Seminary matriculating in 1819; he completed his studies in 1822.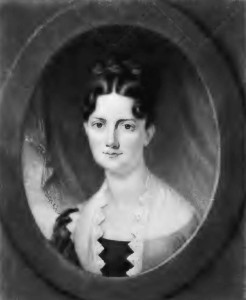 Once John completed his divinity program, he sought an opportunity to preach as a licentiate and prove his gifts for expositing Scripture. When he was licensed by the Presbytery of New Brunswick on August 1, 1822, his plan was to enter foreign missions. He may have chosen the location for his testing as a licentiate in hopes of obtaining help to get to the foreign field because he was the chaplain for the United States House of Representatives for its 1822-1823 term. However, he was unable to enter missions, but having proven his gifts in a decidedly non-church situation he returned to Kentucky with Margaret where he was ordained and installed in the McChord (Second) Presbyterian Church in Lexington, September 10, 1823. Beginning in 1826, the Breckinridges moved to Baltimore where he served about four years assisting Rev. John Glendy, D.D., in the city's Second Church. The installation service had included a sermon, "Christian Weapons not Carnal, but Spiritual," delivered by his father in law, Samuel Miller.
Rev. Breckinridge's next ministries took him from the local church into other areas of denominational service. The Breckinridges left Baltimore and moved to Philadelphia so he could become the Secretary and General Agent of the Board of Education, 1831-1836. He then returned to Princeton and was inaugurated Professor of Pastoral Theology and Missionary Instruction on May 5, 1836. The year 1838 was particularly eventful for Breckinridge because he resigned from his professorship at Princeton Seminary in the summer to become the General Agent of the Board of Foreign Missions, he and others in the Old School were dealing with the issues and restructuring required after the ejection of the New School in 1837, and tragically, Margaret died June 16.
John did not survive Margaret very long. Due to declining health, he wintered in New Orleans in 1839 and 1840 while supplying the pulpit of the First Presbyterian Church, which must have been challenging because his disease affected his throat. Rev. John Breckinridge, D.D., was visiting his Kentucky homeland when he died at the age of 44, August 4, 1841, upon the land where he had been born at Cabell's Dale. At the time of Breckinridge's death, he was a member of the Board of Education of the Old School, and just a few months before he had been appointed to a four-year term on the Board of Missions. In the closing months of his life his fine preaching voice was so diminished that he could barely whisper. When the first Princeton Seminary building specifically dedicated to serve as the library was completed in 1843, the book collection of former professor John Breckinridge was added to its shelves. Dr. Breckinridge had married Miss Mary Ann Babcock not very long before he died.
John Breckinridge was honored with the Doctor of Divinity by Union College in 1835. He was a trustee of Princeton University, 1830-1841, and on the Board of Directors of Princeton Seminary, 1832-1836.
Dr. Breckinridge did not write often in his brief life, but he did write for the Biblical Repertory and Princeton Review an article in 1830 titled, "The Claims of Foreign Missions," and then he provided another piece in 1832, "Sprague on Revivals of Religion." Other literary efforts included, An Address Delivered July 15, 1835, Before the Eucleian and Philomathean Societies of the University of the City of New York, 1836; Controversy Between the Rev. John Hughes, of the Roman Catholic Church, and the Rev. John Breckinridge, of the Presbyterian Church, Relative to the Existing Differences in the Roman Catholic and Protestant Religions, 1833 (this is a debate in the form of letters between the two); Introductory Address of the Board of Education to Youth, 1832 (published in The Annual of the Board of Education of the General Assembly of the Presbyterian Church in the United States of America, Vol. 1, 1832); Ministerial Responsibility: A Discourse, The Substance of Which was Delivered before the Synod of Philadelphia, at its Late Meeting in Harrisburg, Oct. 1827, 1828; "On Christian Missions," 1833 (published in The Spruce Street Lectures, Delivered by Several Clergymen, During the Autumn and Winter of 1831-1832, Breckinridge's lecture begins on page 255); and a brief article titled, "The Substance of an Address Delivered at the Third Annual Meeting of the Lexington Female Bible Society," 1826.
Barry Waugh
---
Notes—Other biographies of Breckinridges on Presbyterians of the Past other than those linked in the above text  include, Benjamin Breckinridge Warfield, William Lewis Breckinridge, and Samuel Miller Breckinridge.
Sources—Clarification editing was done on this biography August 27, 2015. Robert Davidson, History of the Presbyterian Church in the State of Kentucky with a Preliminary Sketch of the Churches in the Valley of Virginia, New York: Robert Carter, 1847, pages 361-364, which is nearly duplicated in W. B. Sprague, Annals of the American Pulpit, Vol. 4, New York: Robert Carter, 1856, 1858, pages 645-651; the article by Bradley J. Gundlach, "'B' is for Breckinridge: Benjamin B. Warfield, His Maternal Kin, and Princeton Seminary," in Gary L. W. Johnson, ed., B. B. Warfield: Essays on His Life and Thought, Phillipsburg: P&R, 2007, pages 13-53, provides guidance through the confusion of Breckinridges; and tells the fascinating story of a remarkable family; and A Memorial of Mrs. Margaret Breckinridge in Two Parts, Part I. Memoir, and Funeral Sermon, Part 2, Letters to Her Surviving Children, Philadelphia: William S. Martien, 1839. David Calhoun, Princeton Seminary, vol. 1, page 270, notes the donation of Breckinridge's library to the seminary. Robert Jefferson Breckinridge was B. B. Warfield's grandfather.